Background:
As a part of the Federal Contaminated Sites Action Plan the Government of Canada is heavily investing into the remediation of high-risk sites. One of the higher risk northern sites is the Giant Mine in Yellowknife, NWT, a former gold mine now under the custodianship of the Department of Indian and Northern Affairs after its previous owner, Royal Oak Mines, went bankrupt in 1999.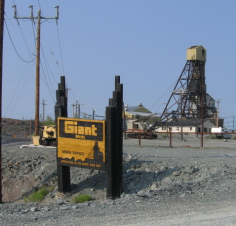 After 50 years of operation, there are approximately 237 000 tonnes of highly toxic arsenic trioxide dust stored underground in Giant Mine. Arsenic-contaminated buildings, soils, and tailings on the site are also posing risks to human health and the environment. If not dealt with in a timely fashion, the arsenic-contaminated dust could potentially be released.
Above ground, the land will be restored. Below ground, full decontamination is a complex challenge without a feasible, immediate solution. Arsenic is highly soluble, and contaminated water that collects deep within the former mine has been one of the chief concerns about the site. Even before Giant stopped producing in 2005, water that dribbled into its lower depths was pumped out to keep it from seeping into ground water and eventually into Great Slave Lake.
The federal government has since announced a remediation plan for the mine that would freeze the entire mine like an enormous, inverted Popsicle. Refrigerating pylons would be sunk to the level of the lowest arsenic chamber to restore the permafrost destroyed by decades of mining. Thermal pumps, commonly used in the North to keep permafrost solid under a building's foundations, would then draw heat out to keep the ground frozen. Water would slowly be released back into the mine to freeze and immobilize the entire area. The entire process is scheduled to take about 20 years. Estimates suggest it would cost taxpayers somewhere between $90 million and $120 million Canadian dollars.
Area residents aren't convinced the plan would work and have forced the government to hold environmental hearings on it.
The new study:
In a paper delivered Monday Sept. 8 in Dublin, Ireland, at the
Society for General Microbiology
's Autumn meeting researchers from
University College London
revealed they have discovered a microbe living deep within Yellowknife's Giant Mine that could help to clean-up the site.
Microbiologists Thomas Osborne and
Joanne Santini
examined samples of bacteria sitting on walls in the bowels of the mine and found microbes busily converting arsenite into arsenate, an arsenic species that can be removed from water more easily.
Arsenite oxidising bacteria can be found all over the world, but these were the first able to work in such a cold environment.
"Before, all the bacteria that have been isolated grow in moderate and hot temperatures, from 20 to 35 degrees and above 50 degrees. We found bacteria that will grow below 10 degrees," said Osborne.
Most organisms, including all plants and animals, ultimately get their energy from sun. However, these new bacteria are among a growing group of microbes that scientists have discovered that can get their energy directly from breaking down chemical bonds, allowing them to survive in the most inhospitable environments.
Osborne suggests the new microbe could become part of a remediation solution.
"Research using (the microbe) in filters to remove arsenic is ongoing and that could be a very real possibility."

Related Studies

J.M. Santini, L.I. Sly, R.D. Schnagl, J.M. Macy, A new chemolithoautotrophic arsenite-oxidising bacterium isolated from a gold mine: phylogenetic, physiological, and preliminary biochemical studies, Appl. Environ. Microbiol., 66/1 (2000) 92-97.
available from: http://aem.asm.org/cgi/reprint/66/1/92

J.M. Santini, J.F. Stolz, J.M. Macy,
Isolation of a new arsenate-respiring bacterium - physiological and phylogenetic studies
, Geomicrobiol. J., 19/1 (2002) 41-52.
DOI: 10.1080/014904502317246156

Joanne M. Santini, Lindsay I. Sly, Aimin Wen, Dean Comrie, Pascal De
Wulf-Durand, Joan M. Macy, New Arsenite-Oxidizing Bacteria Isolated from Australian Gold Mining Environments--Phylogenetic Relationships, Geomicrobiol. J., 19/1 (2002) 67-76.
DOI: 10.1080/014904502317246174

J.M. Santini, R.N. vanden Hoven, Molybdenum-containing arsenite oxidase of the chemolithoautotrophic arsenite oxidizer NT-26, J. Bacteriol., 186/6 (2004) 1614-1619.
DOI: 10.1128/JB.186.6.1614-1619.2004

J.M. Santini, U. Kappler, S.A. Ward, M.J. Honeychurch, R.N. vanden Hoven,
P.V. Bernhardt, The NT-26 cytochrome c552 and its role in arsenite oxidation, Biochim. Biophys. Acta - Bioenergetics, 1767 (2007) 189.
DOI: 10.1016/j.bbabio.2007.01.009

Related information

National Research Council of Canada: EnviroZine: Cleaning Up Federal Contaminated Sites

Indian and Northern Affairs Canada: Arsenic Trioxide at Giant Mine

Mining Watch Canada: Giant Mine - Background

University College London: The London Arsenic Group

Related EVISA News

August 16, 2008: Arsenic-eating bacteria rewrite evolutionary history
last time modified: June 26, 2020