a
European Network
:



offering new and profitable strategies for enterprises to improve quality of industrial processes and products
enhancing the cost/benefit ratio of analytical measurements by enhancing the information value
making the collective knowledge of the world's experts in speciation analysis easily accessible
EVISA is offering solutions and support for "real world" speciation issues such as:
Effective and efficient consulting
Professional analytical services
Quality assurance-related activities
Fit-for-purpose analytical developments
Expert training activities
Concise web portal with discussion forum, news section, directory of scientists, calendar of events, list of vacant positions
Comprehensive databases covering literature, reference materials, standards, standard operating procedures etc.
Information about toxicity, bioavailability, legislation for metal and metalloid species
EVISA's web portal is the primary source of information for all those seeking for information related to element speciation analysis and related topics.
---

Free subscription of EVISA's Speciation Newsletter !
Join EVISA'a usergroup and enhance your benefits from EVISA's services. Be informed about the actual trends in chemical speciation with respect to analytical methodology, standards and legislation, application and new products. Don't miss speciation events, deadlines or open positions by receiving EVISA's Speciation Newsletter regularly. In case that you already signed in but do not receive the Newsletter please check your given E-Mail account and SPAM-filter settings. If our server cannot reach you frequently, your subscription will be canceled.

EVISA's News section - keeping you updated !
EVISA informs about trends, new technologies, new products, upcoming legislation and other news related to element species and speciation analysis. Please recognize that even back-lying "news" are kept updated with respect to links to external information.


EVISA's news section
Web site of the month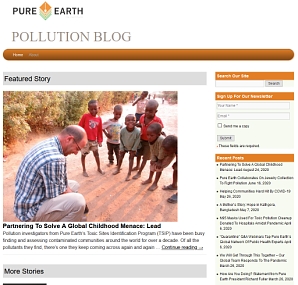 Pure Earth
Pure Earth, formerly known as the Blacksmith Institute, is a leader in global toxic pollution cleanup. Since its inception in 1999, Pure Earth has completed 110 environmental remediation projects in 27 countries, improving the lives of millions of people, especially children, who are most at risk from the threat of toxic pollution.
Based in New York, Pure Earth works cooperatively around the world in partnerships that include governments, the international community, NGOs and local agencies, to design and implement innovative, low-cost solutions to save lives.

visit the web site of Pure Earth