EVISA Services: Speciation Newsletter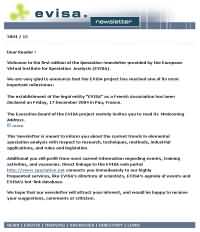 EVISA's monthly
Speciation Newsletter
is meant to inform you about the current trends in elemental speciation analysis with respect to research, techniques, methods, industrial applications, and rules and legislation. Additional you will profit from most current information regarding events, training activities, and vacancies.
Direct linkage to the EVISA web portal http://www.speciation.net connects you immedeately to our highly frequented services, like EVISA's directory of scientists, EVISA's agenda of events, EVISA's list of vacancies and EVISA's hot-link database.
In order to receive the newsletter regularly, you simply join the user group and select the option "Newsletter". The newsletter is send out to the subscribers around the 15th day of each month.


subscribe the newletter....






The following newsletters have so far been sent out:

2023
Jan Feb Mar Apr May Jun Jul Aug Sep Oct Nov

2022
Jan Feb Mar Apr May Jun Jul Aug Sep Oct Nov Dec

2021
Jan Feb Mar Apr May Jun Jul Aug Sep Oct Nov Dec

2020
Jan Feb Mar Apr May Jun Jul Aug Sep Oct Nov Dec

2019
Jan Feb Mar Apr May Jun Jul Aug Sep Oct Nov Dec

2018
Jan Feb Mar Apr May Jun Jul Aug Sep Oct Nov Dec

2017
Jan Feb Mar Apr May Jun Jul Aug Sep Oct Nov Dec

2016
Jan Feb Mar Apr May Jun Jul Aug Sep Oct Nov Dec

2015
Jan Feb Mar Apr May Jun Jul Aug Sep Oct Nov Dec

2014
Jan Feb Mar Apr May Jun Jul Aug Sep Oct Nov Dec

2013
Jan Feb Mar Apr May Jun Jul Aug Sep Oct Nov Dec

2012
Jan Feb Mar Apr May Jun Jul Aug Sep Oct Nov Dec

2011
Jan Feb Mar Apr May Jun Jul Aug Sep Oct Nov Dec

2010
Jan Feb Mar Apr May Jun Jul Aug Sep Oct Nov Dec

2009
Jan Feb Mar Apr May Jun Jul Aug Sep Oct Nov Dec

2008
Jan Feb Mar Apr May Jun Jul Aug Sep Oct Nov Dec

2007
Jan Feb Mar Apr May Jun Jul Aug Sep Oct Nov Dec

2006
Jan Feb Mar Apr May Jun Jul Aug Sep Oct Nov Dec

2005
Jan Feb Mar Apr May Jun Jul Aug Sep Oct Nov Dec

2004
Dec