Background: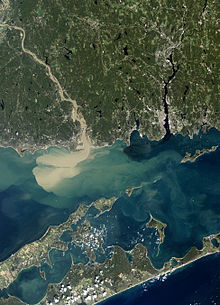 Photo:
Satellite image of the Connecticut River depositing silt into Long Island Sound (NASA Earth Observatory, Public domain)
The new study:

The cited study:

Zeyang Sun, Xiang-li Wang, Noah Planavsky,
Cr isotope systematics in the Connecticut River estuary,
Chem. Geol., 506 (2019) 29-39.
DOI: 10.1016/j.chemgeo.2018.12.034

W.S. Broecker, T. Peng,
Tracers in the Sea
, Columbia University (1982). available from:
https://www.ldeo.columbia.edu/~broecker/Home_files/TracersInTheSea_searchable.pdf

R. Cranston, J. Murray,
Chromium species in the Columbia River and estuary
, Limnol. Oceanogr. 25 (1980) 1104–1112.
DOI: 10.4319/lo.1980.25.6.1104

R. Cranston, J. Murray,
The determination of chromium species in natural waters
. Anal. Chim. Acta, 99 (1978) 275-282.
DOI: 10.1016/S0003-2670(01)83568-6