Background: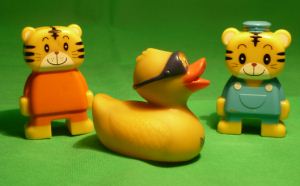 Foto: Plastic may contain cadmium, sometimes added
as a colorant
The use of cadmium and its compounds is strictly regulated within the European Union. The European Commission has recently requested the European Chemicals Agency (ECHA) to prepare an Annex XV dossier to consider whether the use of cadmium compounds in certain plastics should be subject to further restrictions.

The current text of entry 23 of Annex XVII of REACH (adopted on 18 September 2012) forbids the use of these substances in 16 specific plastic materials in the EU. The following section of text from paragraph 1 of the entry reads as follows :
1. (Cadmium and its substances) shall not be used in mixtures and articles produced from the following synthetic organic polymers (hereafter referred to as plastic material):

polymers or copolymers of vinyl chloride (PVC) [3904 10] [3904 21]
polyurethane (PUR) [3909 50]
low-density polyethylene (LDPE), with the exception of low-density Polyethylene used for the production of coloured masterbatch [3901 10]
cellulose acetate (CA) [3912 11]
cellulose acetate butyrate (CAB) [3912 11]
epoxy resins [3907 30]
melamine-formaldehyde (MF) resins [3909 20]
urea-formaldehyde (UF) resins [3909 10]
unsaturated polyesters (UP) [3907 91]
polyethylene terephthalate (PET) [3907 60]
polybutylene terephthalate (PBT)
transparent/general-purpose polystyrene [3903 11]
acrylonitrile methylmethacrylate (AMMA)
cross-linked polyethylene (VPE)
high-impact polystyrene
polypropylene (PP) [3902 10]
ECHA's request:
During the process of expanding the above list to encompass all plastic materials through Regulation (EU) No 494/2011, it came to the attention of the European Commission that there may be small or niche applications of cadmium compounds such as the colouring of some engineering plastics, where suitable alternatives to the use of cadmium compounds may not be available. The European Commission now wishes ECHA to investigate whether the restriction entry should be expanded to other plastic materials. Such an expansion would be introduced through the preparation by ECHA of an Annex XV Restrictions Dossier and would not revoke or affect the existing derogation for the use of cadmium compounds in plastic materials for safety uses. Where technically and economically feasible alternatives are not available, derogations would be considered.

Three cadmium compounds have already been indicated as potentially having no suitable alternatives available in certain niche applications in plastics materials:

cadmium zinc sulphide yellow (EC Number 232-466-8, CAS Number 8048-07-5);
cadmium sulphoselenide red (EC Number 261-218-1, CAS Number 58339-34-7); and
cadmium sulphoselenide orange (EC Number 235-758-3, CAS Number 12656-57-4).

As a result, information collection will give particular attention to these three compounds. However, the scope of this work is not limited to them. In particular, ECHA is seeking information on additional plastic materials that contain cadmium and are not covered by the current restriction, and on possible alternatives. Comments are due by February 11, 2013, and may be submitted via an online questionnaire available on the ECHA website.

Related information:

ECHA: Press release: Call for evidence on the use of cadmium in plastics

Risk & Policy Analysts Ltd: RPA Study on behalf of the European Chemicals Agency To Support the Preparation of an Annex XV Dossier on the Use of Cadmium and its Compounds in Certain Plastics

Eur-lex: COMMISSION REGULATION (EU) No 494/2011 of 20 May 2011 amending Regulation (EC) No 1907/2006 of the European Parliament and of the Council on the Registration, Evaluation, Authorisation and Restriction of Chemicals (REACH) as regards Annex XVII (Cadmium)

Related EVISA Resources:

Link database: Use of cadmium in industry

Link Database: Toxicity of cadmium

Brief summary: REACH: Registration, Evaluation and Authorisation of Chemicals

Related News

February 15, 2012: Cadmium Exposure Could Be Damaging Children's Health more than Lead

February 12, 2012: Study links high levels of cadmium and lead in blood to pregnancy delay

June 7, 2011: European Commission announces ban on cadmium in plastics
last time modified: February 4, 2013