The so called "European Winter Conference" is taking place every other year in Europe organized by researchers being active in plasma spectrochemistry. The 18th version of the conference was organized by Ryszard Lobinsky and his colleages bringing the conference to Pau where it took place already 20 years ago. While the conference venue in the very SW of France is not that easy to reach, the event had attracted about 500 participants, a number quite typic for this conference.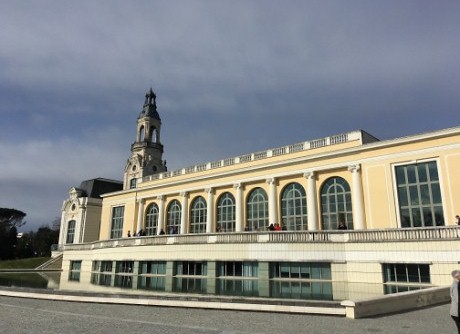 The conference took place in the congress centre of Pau (Palais Beaumont, see photo above), which allowed for a spacious exhibition, two parallel streams, a poster hall as well as seminar rooms for vendor sessions and other side events. Coffee and lunch breaks were served in the exhibition hall and participants were regaled with excellent drinks and food.
With more than 16 % of the total presentation time, speciation analysis was again a hot topic during the conference, which is also quite typic for the European issue of the Winter Conference. However this time other topics, such as nanoparticle analysis (also 16 %) reached the same or even higher level (laser ablation with 20 %). This is especially astonishing, since the laser ablation community had met during the European Workshop on Laser Ablation a few months before at the same place. Also about 16 % of all posters were devoted to speciation analysis.

Anyhow the speciation research community is not really numerous and not growing. This is not a specialilty but rather the result of a decreasing number of active working groups related to analytical chemistry in Europe. Also the active groups working in the field of speciation analysis have broadened their working fields partially moving to other topics such as metallomics and nanoanalytics.

Also routine target species analysis is partially transferred from the complex hyphenated techniques based on ICP-MS to cheaper and less demanding techniques such as Atomic Fluorescence Spectrometry (for mercury speciation) or Hydride-AAS (for inorganic arsenic determination). Such methods are no longer topics for research nor a point of discussion for the EWCPS.


Related information

EVISA Agenda of Events

Related EVISA News (newest first)
last time modified: February 21, 2019