Background:The new study:
In order to fundamentally understand the process involved in single-particle signal generation and the parameters that might have an influence on the working range, detection power and accuracy, the group of researchers from the Unversities of Münster and Antwerp investigated the processes taking place within the ICP. There selected the approach of both experimental ICP-MS measurements supported by plasma modelling (see figure 2).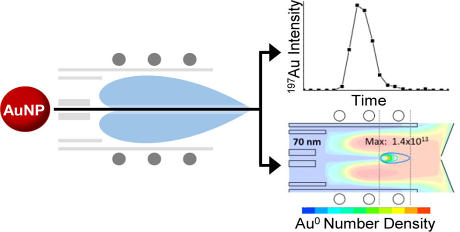 For this purpose, a set of nanoparticles with narrow distributions around particle sizes ranging between 15 and 100 nm were synthesized and characterized by established methods. Thses particles were introduced into the ICP and a statistically significant number of short transient events was recorded by the MS being operated with a very short dwell time of 50 µs. Such short measurement time did not only allow to get a signal for each particle but to follow the ion cloud generation and transport through the plasma into the sampler cone. From these signal profiles, the summed intensity, the maximun intensity and the signal duration was evaluated, of which all three were found to depend on particle size.

The original study:

Joshua Fuchs, Maryam Aghaei, Tilo D. Schachel,
Michael Sperling
, Annemie Bogaerts,
Uwe Karst
,
Impact of the Particle Diameter on Ion Cloud Formation from Gold Nanoparticles in ICPMS,
Anal. Chem., 90 (2018) 10271−10278.
DOI: 10.1021/acs.analchem.8b02007