The establishment of EVISA is funded by the EU through the Fifth Framework Programme (G7RT- CT- 2002- 05112).



Supporters of EVISA includes:


Home ›› About Speciation ›› Speciation News

Arsenic in Pressure-Treated Lumber - Enhancing Childrens Cancer Risks
(17.05.2005)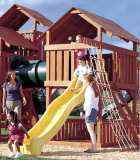 While CCA manufacturers and the Environmental Protection Agency (EPA) had already agreed to phase out CCA treatment of wood for most consumer uses by the end of 2003 there are however many installations of such wooden structures existing. About 70% of existing U.S. single-family homes and 14% of public playgrounds incorporate CCA-treated wood.
For homeowners and others who want to reduce their potential arsenic exposure from their decks or other CCA-treated wood structures, new studies show that use, at least once a year, of an oil-or water-based, penetrating sealant or stain can reduce arsenic migrating from the treated wood. The data show that oil- or water-based sealants or stains that can penetrate wood surfaces are preferable to products such as paint, because paints and other film-formers can chip or flake, requiring scraping or sanding for removal, which can increase exposure to arsenic. Consumers should consider the required preparation steps (e.g., sanding, power washing, etc.) before selecting a product to minimize potential exposure to arsenic, both for initial application and re-coating.

Related Studies
Elena Kwon, Hongquan Zhang, Zhongwen Wang, Gian S. Jhangri, Xiufen Lu, Nelson Fok, Stephan Gabos, Xing-Fang Li, and X. Chris Le, Arsenic on the Hands of Children after Playing in Playgrounds, Environmental Health Perspectives Volume 112, Number 14, October 2004

Kristina M. Hatlelid, Patricia M. Bittner, Jonathan D. Midgett, Treye A. Thomas, Lori E. Saltzman,

Exposure and Risk Assessment for Arsenic from Chromated Copper Arsenate (CCA)-Treated Wood Playground Equipment

, J. Child. Health, 2/3-4 (2004) 215-241. DOI: 10.1080/15417060490930056

Mark S. Levenson, Treye A. Thomas, Warren K. Porter, David G. Cobb, Dwayne Davis, Jonathan D. Midgett, Lori E. Saltzman, Patricia M. Bittner,

A Field Study of Dislodgeable Arsenic from CCA-Treated Wood Using Human-Hand and Surrogate Wipes

, J. Child. Health, 2/3-4 (2004) 197-213. DOI: 10.1080/15417060490930074
Treye A. Thomas, Mark S. Levenson, David G. Cobb, Jonathan D. Midgett, Warren K. Porter, Lori E. Saltzman, Patricia M. Bittner,

The Development of a Standard Hand Method and Correlated Surrogate Method for Sampling CCA (Pressure)-Treated Wood Surfaces for Chemical Residue

, Journal of Children's Health, 2/3-4 (2004) 181-196. DOI: 10.1080/15417060490930047
S.L. Shalat, H.M. Solo-Gabriele, L.E. Fleming, B.T. Buckley, K. Black, M.
Jimenez, T. Shibata, M. Durbin, J. Graygo, W. Stephan, G. Van De Bogart,

A pilot study of children's exposure to CCA-treated wood from playground equipment,

Sci. Total Environ., 367/1 (2006) 80-88. DOI:10.1016/j.scitotenv.2006.01.002


Related Information

Environmental Working Group: Poisoned Playgrounds-Arsenic in Pressure-Treated Wood

National Center for Healthy Housing: Arsenic-Treated Wood

University of Wollongong, NSW, Australia: Treated Timber, Ticking Time-Bomb

US EPA: Information about Chromated Copper Arsenate (CCA)

US EPA: Evaluation of the Effectiveness of Coatings in Reducing Dislodgeable Arsenic, Chromium, and Copper from CCA Treated Wood


Related News (newest first):


NewsWise, August 22, 2007: Arsenic Imports for Lumber Plunge; Center Sets Sights on Disposal

May 17, 2005: Arsenic in Pressure-Treated Lumber - Enhancing Childrens Cancer Risks

March 19, 2005: Phasing out of chromated copper arsenate as a wood preservative
last time modified: June 20, 2020