Background:
Selenium is an essential micronutrient for human health playing a role in reproduction, thyroid hormone metabolism and DNA syntheses, and has protective benefits against oxidative damage and infection. Selenium is contained in different foodstuffs with higher levels being present in brazil nuts, shellfish, red meat and offal. Selenium intake varies across regions due to variations of selenium in the soil from which food crops are grown. Due to low selenium intake, western Europeans, for instance, have an average selenium blood level of around 80 mcg/L, much less than the 110-170 mcg/L reported in North Americans. Low selenium intake has been associated with increased risk of poor immune function, cognitive decline and death. On the other hand, it was speculated that selenium supplementation could reduce the risk for certain cancers.
However, in 2011 a review of 55 studies concluded that selenium supplementation could not show reduced cancer risk.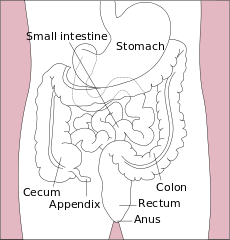 Diagram of the lower gastrointestinal tract
Credit: William Crochot



The new study:
In order to investigate how variations in selenium intake affect colorectal cancer risk, a research team led jointly by Newcastle University, UK, the International Agency for Research on Cancer and the Royal College of Surgeons in Ireland - studied blood samples and dietary and lifestyle information from more than 520,000 participants across 10 Western European countries. The team found that a higher selenium status is significantly associated with a lower risk of colorectal cancer. The results also indicate this could be more relevant for women.

Newcastle University's Prof. John Hesketh says that the new study "put the debate around selenium and cancer back on the table and highlights the need for further research to understand the benefits, if any, of supplementing diets in regions where selenium is naturally low" and he concludes that he and his colleagues "think this provides a strong case for a Europe-wide study to investigate the impact of supplementing food with selenium."

Source: Newcastle University

The cited study:


David J. Hughes et al.,
Selenium status is associated with colorectal cancer risk in the European prospective investigation of cancer and nutrition cohort,
Int. J Cancer, 136/5 (2015) 1149–1161.
doi: 10.1002/ijc.29071

Related studies (newest first):

D.L. Hatfield, P.A. Tsuji, B.A. Carlson, V.N. Gladyshev,
Selenium and selenocysteine: roles in cancer, health, and development
, Trends Biochem. Sci., 39 (2014) 112–120.
doi: 10.1016/j.tibs.2013.12.007

L. Bonelli, M. Puntoni, B. Gatteschi, P. Massa, G. Missale, F. Munizzi, L. Turbino, V. Villanacci, A. Censi, P. Bruzzi,
Antioxidant supplement and long-term reduction of recurrent adenomas of the large bowel. A double-blind randomized trial
, J. Gastroenterol., 48/6 (2013) 698-705.
doi: 10.1007/s00535-012-0691-z

J.J. Fairweather-Tait, Y. Bao, M.R. Broadley, R. Collings, D. Ford, J.E. Hesketh, R. Hurst,
Selenium in human health and disease
, Antioxid. Redox Signal., 14 (2011) 1337–83.
doi: 10.1089/ars.2010.3275

Christopher C. Johnson, Fiona M. Fordyce, Margaret P. Rayman,
Symposium on 'Geographical and geological influences on nutrition' Factors controlling the distribution of selenium in the environment and their impact on health and nutrition
, Proc. Nutr. Soc., 69 (2010) 119–132.
doi:10.1017/S0029665109991807


F.P. Bellinger, A.V. Raman, M.A. Reeves, M.J. Berry,
Regulation and function of selenoproteins in human disease
, Biochem. J., 422 (2009) 11–22.
doi: 10.1042/BJ20090219


Margaret P. Rayman,
Selenoproteins and human health: Insights from epidemiological data
, Biochim. Biophys. Acta, 1790 (2009) 1533–40.
doi:10.1016/j.bbagen.2009.03.014


M.O. Rayman,
Food-chain selenium and human health: emphasis on intake
, Br. J. Nutr., 100 (2008) 254–68.
doi: 10.1017/S0007114508939830

Kristin Wallace, Tim Byers, J. Steven Morris, Bernard F. Cole, E. Robert Greenberg, John A. Baron, Alejandra Gudino, Vickie Spate, Margaret R. Karagas,
Prediagnostic serum selenium concentration and the risk of recurrent colorectal adenoma: a nested case-control study
, Cancer Epidemiol. Biomarkers Prev., 12 (2003) 464–467.
PMID: 12750244

Related EVISA Resources

EVISA Link Database: Selenium and Human health

EVISA Link Database; Research projects related to selenium

Related EVISA News

May 12, 2011: Review: Selenium doesn't prevent cancer

October 28, 2008: National Cancer Institute ends Selenium and Vitamin E Cancer Prevention Trial, or SELECT

October 6, 2005: Selenomethionine shows promising results as a protective agent against Esophageal Cancer
last time modified: December 18, 2014