Background: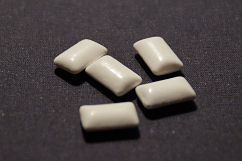 chewing gum covered with titanium dioxide

Labeled as E171, titanium dioxide is used in the food sector since more than 50 years as a whitener and goes into products from chocolate, chewing gum, white sauces, coffee whitener, cake icing and mozarella cheese. EFSA is estimating the human daily uptake to about 1,28 mg/kg body weight.
In 2016, the European Food Safethy Authority (EFSA) concluded its re-evaluation of all food colours with the statement, that available toxicological data on titanium dioxide do not indicate adverse effects via oral ingestion. While the ANS Panel was unable to set an Acceptable Daily Intake (ADI) for titanium dioxide because of data limitations, using the margin of safety approach, they concluded that dietary exposure does not pose health concerns. The experts highlighted, however, the need for new research to fill data gaps on potential effects of titanium dioxide on the reproductive system.
A study of France's National Institute for Agricultural Research (INRA) and partners, published in January 2017, showed that chronic exposure of rats to E171 may cause precancerous colorectal lesions. Also it was shown that E171 orally administered crosses the intestine wall in animals to reach other parts of the body.

Alarmed by this study, the French Agency for Food, Environmental and Occupational Health & Safety (ANSES) put forward that titanium dioxide E171 may have some potential dangers, and proposed European Chemical Agency (ECHA) to classify it as a substance that may cause cancer by inhalation. In May 2018, the French National Assembly passed an amendment to ban the use, import and sale of any food containing titanium dioxide (TiO2) as food additive. France also submitted a dossier towards ECHA for classifying Titanium dioxide as carcinogen.

While the International Agency for Research on Cancer (IARC) listed titanium dioxide as "possibly carcinogenic to humans," they also add that "there is inadequate evidence in humans for the carcinogenicity of titanium dioxide." Of the four human studies that they reviewed, only one showed a potential risk for occupational workers inhaling titanium dioxide particles and lung cancer, while the other three showed no risk for cancer at all. And it's key to note that IARC did not assess the effects of titanium dioxide found in foods.

In June 2017, ECHA's Committee for Risk Assessment (RAC) concluded that the available scientific evidence meets the criteria in the CLP Regulation to classify titanium dioxide as a substance suspected of causing cancer through the inhalation route. The committee also concluded that there was insufficient evidence to classify titanium dioxide in the more severe category for carcinogenicity (category 1B) as was originally proposed by the dossier submitter, France. This more severe category refers to a substance which is presumed to cause cancer.

In June 2018, following a request by the European Commission for a scientific opinion, the European Food Safety Authority (EFSA) confirmed their opinion that data on E171 in food showed no health concerns for consumers.

Asked to do a wider review into the ingredient, health and safety agency ANSES found there was not enough evidence to prove it was safe for humans, the French economy and environment ministries said in a joint statement on Wednesday, April 17, 2019.
In this statement it is argued that the use of this additive still suffers from a lack of data that the marketers and producers of this additive should have provided. Also the lack of data does not allow to establish an acceptable daily intake.

E171 is authorized at European Union level and the French government said it would notify the European Commission and other member states of its decision.


Related studies (newest first):

Sarah Bettini, Elisa Boutet-Robinet, Christel Cartier, Christine Coméra, Eric Gaultier, Jacques Dupuy, Nathalie Naud, Sylviane Taché, Patrick Grysan, Solenn Reguer, Nathalie Thieriet, Matthieu Réfrégiers, Dominique Thiaudière, Jean-Pierre Cravedi, Marie Carrière, Jean-Nicolas Audinot, Fabrice H. Pierre, Laurence Guzylack-Piriou & Eric Houdeau,
Food-grade TiO2 impairs intestinal and systemic immune homeostasis, initiates preneoplastic lesions and promotes aberrant crypt development in the rat colon
, Scientific Reports, 7 (2017) #40373.
DOI: 10.1038/srep40373

Marie-Hélène Ropers, Hélène Terrisse, Muriel Mercier-Bonin and Bernard Humbert,
Titanium Dioxide as Food Additive
, in: Magdalena Janus (ed.), Application of Titanium Dioxide, INTECH Open, 2017, chapter 1:
DOI: 10.5772/intechopen.68883

Pedro A. Ruiz, Belen Morón, Helen M. Becker, Silvia Lang, Kirstin Atrott, Marianne R. Spalinger, Michael Scharl, Kacper A. Wojtal, Anne Fischbeck-Terhalle, Isabelle Frey-Wagner, Martin Hausmann, Thomas Kraemer, Gerhard Rogler,
Titanium dioxide nanoparticles exacerbate DSS-induced colitis: role of the NLRP3 inflammasome
. Gut, 66 (2017) 1216-1224.
DOI:10.1136/gutjnl-2015-310297

Alan MacNicoll, Mick Kelly, Hatice Aksoy, Evelien Kramer, Hans Bouwmeester, Qasim Chaudhry,
A study of the uptake and biodistribution of nano-titanium dioxide using in vitro and in vivo models of oral intake
, J. Nanopart. Res., 17 (2015) 66.
DOI: 10.1007&s11051-015-2862-3

Related information

ANSES (French Agency for Food, Environmental and Occupational Health & Safety): Titanium dioxide nanoparticles in food (additive E171): biological effects need to be confirmed

INRA: Food additive E171: first findings of oral exposure to titanium dioxide nanoparticles

EFSA, September 14, 2016: Food colours: titanium dioxide marks re-evaluation milestone

ECHA, June 9, 2017: Titanium dioxide proposed to be classified as suspected of causing cancer when inhaled

TDMA (Titan Dioxide Manufacturers Association): Titanium dioxide in Food

University of Zurich, July 19, 2017: Titanium Dioxide Nanoparticles Can Exacerbate Colitis

Ministère de la Transition écologique et solidaire: Press release Avril 17, 2019: Dioxyde de titane

Related EVISA News
Last time modified: April 23, 2019