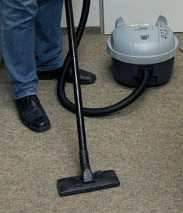 The study, "
Sick of Dust: Chemicals in Common Products—a Needless Health Threat in Our Homes
," is the first in the United States to look at a wide range of legal chemicals used in computers, cosmetics, upholstery, pesticides and other products which are internationally recognized as toxic or harmful to the immune and reproductive systems.
The toxins, which have been found in the household dust, belong to one of six chemical classes described below:

Organotin compounds: Used in water pipes, food packing materials and many other consumer products, these compounds are poisonous in small amounts, and can disrupt the hormone and reproductive system and are toxic to the immune system.

Brominated flame retardants: Used in iles, plastics and electrical goods, these contaminants accumulate in breast milk and can be neurotoxins.

Phthalates: Found in vinyl products like flooring, furniture and raincoats, as well as paint, medical equipment and perfume, these contaminants build up in the body and disrupt the reproductive system in animal studies.

Alkylphenols: Used in products including laundry detergents, iles, leather, paints and cleaners, these chemicals can affect sperm production, alter sexual development and may disrupt the human immune system.

Perfluorinated organics: Used to make Teflon, Goretex and other materials, these chemicals are potentially carcinogenic and caused damage to organ function and sexual development in lab animals.

Pesticides: Used in and around homes to control insect infestations, these are contaminants that persist for years in the environment and can damage the hormone system and be carcinogenic.
"Why take a chance with the lives of our children?" asked Beverley Thorpe, international director of Clean Production Action, during a press conference. Babies and young children are particularly at risk from exposure, the report says, because of their hand-to-mouth activity. "Manufacturers and retailers need to stop using toxic chemicals, which are building up in our bodies, and switch to safer alternatives, which are readily available."
But the Associated Industries of Massachusetts disagreed with such statement by saying that it is a "myth" that there are good alternatives to all the toxic chemicals cited in the report. Robert Rio, the advocacy group's vice president of environmental policy argued that "In many cases, the substitutes don't perform as well. In many cases, the substitutes are dangerous in other ways."
State Sen. Pamela Resor, D-Acton, who co-sponsored the measure, said that "In some products, it's very difficult (to find alternatives) because there's no easy alternative or it adds a great deal to the cost. In other products, it would be very simple". "I think if we can tackle the simple ones first and the ones that aren't too expensive. It's time to start moving in that direction."
Consumers do have options, and the coalition is recommending that consumers pay attention to the products they buy and find out if the company is working toward a safe chemicals policy.
Meanwhile, state governments are taking action. In Arkansas, California, Colorado, Hawaii, Illinois, Maine, Massachusetts, Michigan, Minnesota, New York, Oregon and Washington, legislation is under way to phase out some of the most dangerous chemicals.
Related information:

Related Studies:

REPORTS
US National Institute of Health: Health & Safety Information on Household Products

NEWS