EVISA's
Journal Database
is part of EVISA's
Database system
, meant to empower our users to get easy access to relevant information with respect to trace elements and their speciation. The
Journal Database
(as all other databases) is heavily interlinked with all other databases and information pages of EVISA's web site.
How to search in EVISA's Journal Database ?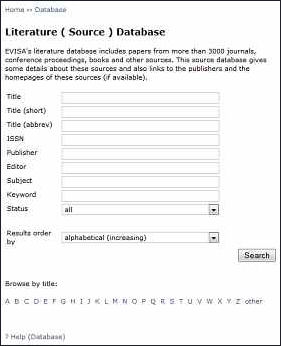 Screenshot: EVISA's Journal Database:
Search window
You may search for journals in EVISA's
journal database
by its...
full titel
abbreviated title
acronym
ISSN number
publisher
editor
subject
or any keyword (appearing in its description)
The resulting hitlist may be sorted either alphabetical or by Impact factor!

Alternatively you may browse through an alphabetical sorted list.
Search help from the server

Already when you type the first characters in any of the search fields, the EVISA server will make some suggestions for possible hits.
Subjects covered by the journal database
The journal database is related to publications dealing with trace elements and their speciation, with respect to all kinds of disciplines such as but not limited to:
Biology

Chemistry
Computer Science
Engineering
Materials Science

Medicine

Physics
Spectroscopy
Virology

Zoology, Ornithology

Information provided by the Journal record: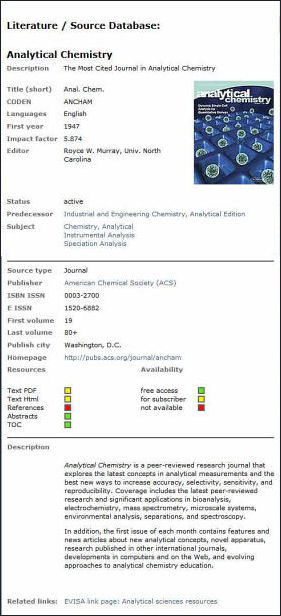 Screenshot: Record from the journal database
Once a journal has been selected from the hitlist, the journal record is displayed giving detailed information.
The status of the journal is given, telling whether the journal is still being published (active) or has changed its title or has been discontinued.
The history of the journal is given by naming its predecessor/successor.
The publisher of the journal is given and links to EVISA's Company Database giving more information.

The homepage of the journal is the place to access the articles (just click on the URL to jump to the site). The record informs about the volumes available on that website.

Color boxes inform about the availability of the content (free, for subscribers or not at all).
A short description of the journal informs about its aims (may be used to search for keywords).

Related links give access to further EVISA resources related to the topics of the journal.
Further information about EVISA's database system:

EVISA's Company Database

EVISA's Material Database

EVISA's Instruments Database

EVISA's Components Database

EVISA's Directory of Scientists
Further information about EVISA's web site:

EVISA's Web portal

EVISA's data centre: Development of the content

EVISA's web portal: User statistics
EVISA's web portal is updated on a daily basis. Information about these updates is provided under the section "News":

What's new on EVISA's web site ?