Background:
The Independent reports that review of the issue has been initiated in part by the growing popularity of tattoos, currently 12 % of the Europeans have one, but this number is increasing to 25% among people aged 18 to 35.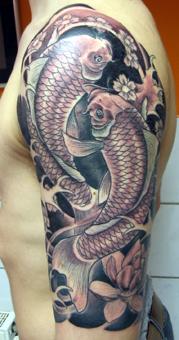 Photo: Irezumi Tattoo
Because the dyes used for tattoos remain in the body permanently, there is a lifetime risk from any harmful chemicals that may be used. Besides the long-term deposition of toxic substances, the European Chemicals Agency reports 'strong evidence for migration" of the tattoo inks from the skin to other organs.
The EU was also concerned about the lack of oversight of the composition of the tattoo inks used. The inks are often a blend of several ingredients of poor purity, and their chemical components are often bought from one supplier to be mixed and sold to distributors and then on to tattoo parlours. A lot of colours are imported also from China with missing compound labelling. Though ingredients are supposed to be thoroughly labelled, especially if theiy're hazardous, there are no standardised requirements across the EU.

The EU initiative
The lack of regulation on ink ingredients and absence of research on long-term effects caused the European Chemicals Agency (ECHA) to conclude in October 2017 that restrictions are needed to protect the public from risky chemicals used for tattoos and "permanent makeup" - tattoos to mimic eyeliners, for example.
"ECHAs proposal cover about 4,000 substances," Mark Blainey, senior scientific officer at ECHA said. "These substances are covered in other legislation where they're banned for use on the skin, of course we don't want them injected under the skin."

"The most severe concerns are allergies caused by the substances in the inks and that they can possibly cause cancer, DNA damage or effects on reproduction," he added. "We are not looking to ban tattooing but to make sure when people get a tattoo that the inks are as safe as possible."
A proposal to implement tight limits on the use of 4,000 chemicals is expected to be brought to a vote among EU member states by the middle of next year, but the UK will not have a say as it is expected to leave in March.