The new instrument
: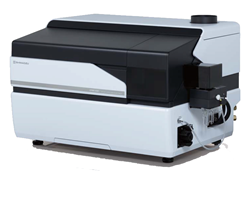 The ICPMS-2030 is the first ICP-MS in the industry to include assistant functions that develop methods and perform post-run diagnostics. The system's Development Assistant automatically selects the optimal mass and internal standard for the target elements, and suggests concentration ranges for calibration curves, allowing any user to develop reliable methods with ease. The Diagnosis Assistant identifies the presence or absence of mass interference based on qualitative analysis to quickly generate reliable results.
The ICPMS-2030 mass spectrometer significantly reduces operating costs utilizing Shimadzu's proprietary technology. This includes a Mini-Torch system, which effectively reduces the amount of argon gas needed to generate plasma, and ECO mode, which minimizes the flow rate and power consumption during standby. The instrument can also operate on 99.95% purity argon gas, instead of the more expensive 99.999% argon gas generally used.
The ICPMS-2030 offers unrivaled sensitivity and easy maintenance, while suppressing molecular interference through optimization of the newly developed collision cell and internal ion path geometry. Standard benefits and features of the ICPMS-2030 include:

Best-in-class sensitivity through effective molecular ion removal and efficient elemental ion transmission
Nine orders of magnitude dynamic range with a secondary electron multiplier, enabling analysis of major and trace-level components in the same sample
An off-axis lens configuration that eliminates photoelectric effects, optimizing the instrument's compatibility with laser ablation systems
Easy-to-maintain interface that allows all parts to be removed and installed without the need for tools, resulting in greater uptime
Easy-to-maintain sample injection system and compact vacuum system
The ICPMS-2030 mass spectrometer is operated with Shimadzu's LabSolutions ICPMS software, which supports laboratory networking. A server PC can be used to remotely manage the analytical results from a wide variety of lab instruments, while the software provides complete compliance with necessary electronic regulations such as FDA 21 CFR Part 11 and Japan's Ministry of Health, Labor and Welfare.
The Shimadzu ICPMS-2030 will be exhibited at Pittcon 2016 Conference & Expo, to be held in Atlanta, Georgia, the week of March 6, 2016.

Related EVISA Resources



Instrument database: Shimadzu Europe - ICPMS-2030

Company databse: Shimadzu (Europe)


Brief summary: ICP-MS: A versatile detection system for trace element and speciation analysis

Link page: Mass spectrometry resources