Background
:
Chromium (VI) is a known carcinogen and can also cause skin irritation, corrosion, ulcers, sensitization, and allergic contact dermatitis. It is hazardous both when inhaled and when a product is in close contact with the skin. As a potent sensitizer, chromium (VI) can elicit allergic reactions at very low concentrations in already sensitized persons. Because of these human health risks, hexavalent chromium is already restricted in some products such as cement to prevent harm to workers or electronic equipment to prevent environmental pollution by waste disposal (see the EVISA Information on Legislation).

Chromium salts are used for leather tanning. Although it is chromium (III) and not chromium (VI) compounds that are used in the leather tanning process, chromium (VI) can be formed from chromium (III) via oxidation, a chemical reaction which can be facilitated by factors like heat, UV radiation, changes in pH, oxidizing agents and many other factors.

European Legislation
: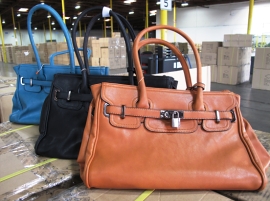 Leather products suchs as gloves, shoes and
bags must be free of hexavalent chromium
Because of the health risks provoked by hexavalent chromium, Cr(VI) should not be present in any leather product with foreseen skin contact such as shoes, gloves etc. Already in 2009, Cr(VI) residues above the detection limit of 3 mg/kg were found in such leather products during a measurement campaign (BÜp) in Germany.

The new report
:
The analysis of leather products for hexavalent chromium was repeated in 2014 by evaluating 386 samples. Again hexavalent chromium was found in about 16 % of the samples. Most of the samples questioned were gloves (33 %), bags and backpacks (25%), work clothes (23 %) and shoes (13%). Samples originating from Germany were less often objected (12%) than those from China (33%).

BVL president Dr. Helmut Tschiersky demanded that producers and importers should take care to respect the legal limits.

Source:
Press release of the BVL


Related EVISA Resources

Link Database: Toxicity of hexavalent chromium (chromate)

Link Database: Industrial Use of chromate

Link Database: Chromium in Leather

Link Database: Legislation related to chromium

Materials Database: Certified reference materials for Cr(VI)


Link Database: Methods for chromium speciation analysis

Brief summary: The Role of elemental speciation on legislation

Brief summary: REACH: Registration, Evaluation and Authorisation of Chemicals

Brief summary: ICP-MS: A versatile detection system for trace element and speciation analysis

Brief summary: LC-ICP-MS - The most often used hyphenated system for speciation analysis

Journals database: Journals related to leather

Related EVISA News



March 12, 2014: EU's proposal to restrict Cr (VI) in leather in final stages

May 4, 2013:
Standard methods for chromium speciation analysis

March 10, 2010: ECHA suggests further chemicals for SVHC list

Februray 15, 2010:
Chromium speciation in solid matrices

June 24, 2004:
New method for measuring Cr(VI) in Leather
last time modified: November 26, 2015