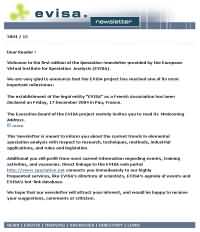 EVISA's Newsletter is an integral part of its information center. Each
Speciation newsletter
is discussing topics that we found to be worth sharing with our subscribers within our
News section
. During the years these News have created a collection of "hot topics" being discussed within our community. This 10 years collection of speciation related news has its value beyond currency and simple history. Since we always update the news with links to new research results and cross-links between News and other content on our website, the News collection is a pool of information that allows to follow an ongoing discussion even if you did not follow from the beginning.
Keywords within the News can be made visible by switching the "Glossary" on, a feature that is available in the top part of all EVISA content pages. By simply clicking on a keyword, further information available on the EVISA data center can easily be accessed.
Our advanced search engine allows for efficient access to the information within the News as well as from any part of our data center.
The newsletter also keeps you updated with upcoming conferences, symposia and workshops related to chemical species and their deadlines. A section on job opportunities informs about open positions in academia and industry.
You can subscribe the EVISA Newsletter free of charge by joining our user community.

Register for EVISA's User Community

Archive of EVISA's Speciation Newsletter

News Archive (Collection of News for more than 10 years)

Advanced Search Engine (providing access across all EVISA content)
Other major parts of EVISA's data center are:
EVISA's
Set of Databases
:

Material Database

Journal Database

Company Database

Instrument Database

Components Database

Directory of scientists

Agenda of Events

Link Database
Further information about EVISA's web site:

EVISA's Web portal

EVISA's data centre: Development of the content

EVISA's web portal: User statistics

Related EVISA News



December 16, 2007: Three years EVISA Newsletter - Four years EVISA website - Time to take stock

December 17, 2006: Two years Speciation Newsletter - Three years of EVISA web site operation - Accomplishments and Future Perspectives

December 16, 2005: One year EVISA speciation Newsletter - Two years of EVISA web site operation - Time to look back
last time modified: June 16, 2015