Background:
Various non-chromatographic methods have been proposed for Tl species in real samples, including ion exchange, flow injection, solid phase extraction, dispersive solid phase extraction, dispersive liquid-liquid microextraction, dispersive micro-solid phase extraction and mixed-micelle cloud point extraction. Unfortunately, most of these methods are based on the selective detection of one of the two Tl species and the total thallium concentration. The total Tl concentration is obtained after converting all Tl to the determined species by redox reaction. Unfortunately, is not that easy to convert species quantitatively at trace levels and it calls for time-consuming operation.
The proposed solution: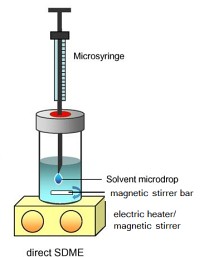 Figure: Schematic diagram of the
single-drop microextraction (SDME)
technique.
Two different extraction systems are used for the sequential extraction of the two species. 1-(2-pyridylazo)- 2-naphthol (PAN) is used for the complexation of Tl(III) and the Tl(III)-PAN complex is extracted into one 1-dodecanol drop. After the extraction of the Tl(III)-PAN complex, another nitrobenzene drop containing dicyclohexano-18-crown-6 (DCH-18-C-6) was immersed in the sample solution for the extraction of Tl(I). Finally, the extracts from TS-DI-SDME were analysed for their thallium concentration by graphite furnace atomic absorption spectrometry (GFAAS).
The method was optimized with respect to sample volume, pH of sample solution, drop volume, chelating reagent concentration, extraction solvent, sample temperature and reaction time.
Comment:

Brief summary: Non-chromatographic separation techniques for speciation analysis

November 17, 2019: Determination of Thallium Speciation in Water Samples by HPLC-ICP-MS
last time modified: November 26, 2023