Background
:
Organotin compounds are widely used as stabilizers for PVC (76%), as antifouling biocides (10 %), as agricultural biocides (8%) and as catalysts for the production of polyurethanes and silicones (5%). In less industrialized countries, the pattern of use might be biased towards agricultural applications. While the inorganic forms of tin are generally considered nontoxic, its organic derivatives exhibit a complex pattern of toxicity. The biological effects of the organotin species are mostly depending on the number and kind of organic moieties bound to the tin atom with the trisubstitued compounds being the most toxic ones.

Existing Regulations: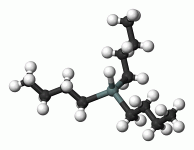 Tri-substituted organostannic compounds were previously widely used in antifouling paints on ships. However, such paints were found to pose risks for aquatic organisms through endocrine disruptive effects. The use of organostannic compounds, also known as organotin compounds, in antifouling paints was therefore restricted in Directive 76/769/EEC, and in Regulation (EC) No 782/2003 of the European Parliament and of the Council of 14 April 2003 on the prohibition of organotin compounds on ships.
Figure: tributyltin hydride model

Furthermore, tri-substituted organostannic compounds may no longer be used as biocides under Directive 98/8/EC of the European Parliament and of the Council of 16 February 1998 concerning the placing of biocidal products on the market ( 3 ). However articles treated with such biocides may still be imported into the Community.

The new EU decision:

Tri-substituted organostannic compounds such as tributyltin and triphenyltin compounds can not be used after 1 July 2010 in articles where the concentration in the article, or part thereof, is greater than the equivalent of 0.1% by weight of tin, according to a European Commission Decision published in the EU Official Journal yesterday. Articles not complying with the ban cannot be placed on the market after this date, except for articles already in use in the EU before the deadline. Similar bans wil be introduced for dibutyltin compounds in mixtures and articles, and doctyltin compounds in certain articles, from 1 January 2012.
The Decision amends Annex I of the 1976 Directive on marketing restrictions for dangerous substances and preparations.

COMMISSION DECISION of 28 May 2009 amending Council Directive 76/769/EEC as regards restrictions on the marketing and use of organostannic compounds for the purpose of adapting its Annex I to technical progress

Related information

Risk assessment studies on targeted consumer applications of certain organotin compounds. RPA study finalised in September 2005.

Revised assessment of the risks to health and the environment associated with the use of the four organotin compounds TBT, DBT, DOT and TPT Adopted by the SCHER during the 14th plenary of 30 November 2006.

EU Directive 76/769/EEC (consolidated version) on the approximation of the laws, regulations and administrative provisions of the Member States relating to restrictions on the marketing and use of certain dangerous substances and preparations


EU Regulation (EC) No 782/2003

Related EVISA Resources

Link Database:Industrial use of organotin compounds


Link Database: Toxicity of organotin compounds


Link Database: All about organotin compounds


Summary: The role of elemental speciation in legislation


Summary: European Legislation related to Speciation


Related EVISA News

March 23, 2013: Tributyltin exposure promotes obesity in following mice generations


November 12, 2008: Mechanism of immuno toxicity of dibutyltin clarified


November 5, 2008: Tributyltin added to U.N. trade watch list


September 18, 2008: Tributyltin canned


June 21, 2008: TBT and other Persistent Man-Made Chemical Pollutants Found in Deep-Sea Octopods and Squids


June 5, 2008: Organotin ban in hull paint begins in September


April 30,2008 Human exposure to organotin compounds via consumption of fish


September 20, 2007: TBT-ban convention ratified


October 11, 2006: TBT from antifouling paint is still endangering marine life, says WWF


November 11, 2004: Source for butyltin compounds in wine


December 11, 2003: No degradation of TBT in seafood during cooking

last time modified: June 28, 2020