The warehouse has improved centralised logistics services as well as a high tech temperature and humidity-controlled environment for all primary reference standards, certified reference materials, standard solutions, solids and matrix materials. Products are stored and monitored for humidity and temperature (from minus 70°C to room temperature) to ensure quality during storage and transport, thereby ensuring the company adheres to current regulations regarding dual use goods, dangerous goods, controlled substances and precursors.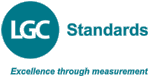 LGC Standards (part of LGC) is now well equipped to fulfil its expansion plans into Latin America, the USA, Asia, North Africa, Australia/New Zealand. The Wesel warehouse will also play a large part in supplying products to LGC Standards´ latest acquisition and its first venture on the African continent; Industrial Analytical of South Africa.
LGC Standards' customers will continue to place their orders in one of the seven LGC Standards offices across Europe and receive their invoice in their local currency, while the reference standards will be shipped directly to the customer with all relevant paperwork from the Wesel central warehouse.
Reference materials suppliers across the world have partnered with LGC Standards to set up consignment stocks in Wesel, giving European researchers fast and easy access to reference materials of their choice. This includes the Institute for Reference Materials and Measurements (
IRMM
) in Belgium, the Reference Materials Institute for Clinical Chemistry Standards in Japan and the National Measurement Institute of Australia (
NMI
), whose reference standards play a leading role in sports doping analysis. Wesel's extended warehouse facility will support customers who are supplying crucial reference materials for sports testing during the 2012 Olympic Games.
Source: adapted from
LGC Standards

Related EVISA Resources

Material Database: Certified Reference Materials

Company Database: LGC and its products

Company Database: Producers of CRMs

Link page: All about CRMs

Related EVISA News

May 3, 2011: New reference materials for the characterisation of selenium-enriched food products

March 20, 2011: Stability of Reference Materials for Speciation Analysis

November 23, 2010: New certified reference material supporting mercury speciation analysis of blood

September 28, 2009: New Beryllium Reference Material for Occupational Safety Monitoring

September 10, 2009: Speciation Analysis - Striving for Quality

February 3, 2009: New Reference Material for Hexavalent Chromium in Contaminated Soil

November 15, 2005: NIST/EPA/NJ DEP embark on the preparation of a soil reference materials for chromium speciation

August 2, 2005: New CRM for Selenomethionine in yeast developed by NRC Canada is now on the market

May 6, 2004: Reference materials producers launch new European initiative

last time modified: February 1, 2012