Background:
A Consumer Reports investigation
recently revealed elevated levels of arsenic up to 25 ppb in juice samples. The organization had tested 88 samples of apple juice and grape juice purchased in August and September, 2011, in Connecticut, New Jersey, and New York. While there is no federal limit for arsenic or lead in juice, the tests indicated that 25 percent of samples exceeded the 5-ppb (parts per billion) total lead limit for bottled water, and 10 percent exceeded the 10-ppb limit for total arsenic in drinking water.
The Thermo Scientific hyphenated system
: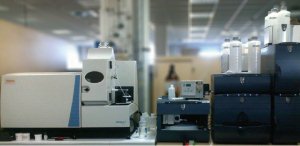 Photo: IC-ICP-MS system: Dionex ICS-5000 system
coupled to XSERIES 2 ICP-Q-MS system

Thermo Fisher's highly sensitive and selective equipment can distinguish between both inorganic and organic types of arsenic. The distinction is important, as inorganic forms of arsenic are highly toxic whereas organic forms are not. Arsenic is a naturally-occurring element that is sometimes found in drinking water and fruit juices, entering during agricultural and industrial processes. Because typical levels of total arsenic found in apple juice are lower than the U.S. Environmental Protection Agency (EPA) drinking water maximum contaminant level, apple juice is generally considered safe and is currently not regulated.
"Thermo Fisher has developed
a highly sensitive and specific method
for analyzing arsenic levels in apple juice," said John W. Plohetski, vice president and general manager, ion chromatography/sample preparation business unit at Thermo Fisher. "The ability to distinguish between organic and inorganic forms of arsenic is critical, and our equipment is sensitive enough to capture that data accurately and reliably."
To demonstrate the capabilities of the combined Dionex ICS-5000 and Thermo Scientific XSERIES 2 for arsenic speciation analysis, Thermo Fisher tested four apple juice brands purchased from a local supermarket. Using the Dionex IC system for chromatographic separations and the XSERIES 2 mass spectrometer for detection, researchers developed a highly sensitive, routine IC-ICP-MS method for determining trace metal species, including arsenic. The method can be used in the analysis of different juices after a simple 10-fold dilution.

Related information

ConsumerReports: Results of Apple Juice and Grape Juice Test

FDA: Questions & Answers: Apple Juice and Arsenic

Thermo Scientific: Ion Chromatography ICP-Q-MS for the Detection of Arsenic Species in Apple Juice
Related Application Notes from Thermo Scientific:

#30012: High Sensitivity Arsenic Speciation: HPLC Sector Field ICP-MS


#40653: Determination of Organo-Arsenic Species in Seaweed Extracts using HPLC-ICP-MS


#40720: Determination of Arsenic Species in Urine Using HPLC Coupled with X Series ICP-MS

#40741: Speciation of Arsenic in Fish Tissues using HPLC coupled with X SeriesII ICP-MS

#43099: IC-ICP-MS speciation analysis of As in apple juice using the iCAP Q ICP-MS

Instruments and materials used

EVISA Instrument Database: Thermo Scientific - XSeries II ICP-MS

EVISA Instrument Database: Dionex - ICS-5000 Capillary Reagent-Free IC System

EVISA Instrument Database: Thermo Scientific - HPLC-ICP-MS Coupling Kit

Related EVISA Resources

Brief summary: ICP-MS - A versatile detection system for speciation analysis

Brief summary: LC-ICP-MS - The most often used hyphenated system for speciation analysis

Brief summary: Certified reference materials for arsenic species in biological materials

Link Database: Human exposure to arsenic from the diet

Link Database: Analytical Methods for Arsenic Speciation Analysis

Related EVISA News
(newest first)

June 10, 2011: U.S. sales of widely used drug "Roxarsone" for chickens to be suspended

January 4, 2011: Arsenic species in rice: Call for analytical laboratories

August 2, 2010: Gut bacteria transform inorganic arsenate leading to more toxic arsenic species

May 19, 2010: China: Inorganic Arsenic in Rice - An Underestimated Health Threat ?

February 23, 2010: US EPA opens inorganic arsenic cancer assessment for public review

December 4, 2009: EFSA: Scientific Opinion on Arsenic in Food

May 26, 2009: UK Food Standards Agency releases research on arsenic in rice milk

January 31, 2009: Using the right recipe for cooking rice reduces toxic inorganic arsenic content

December 4, 2008: High level of inorganic arsenic in blue mussels from Norwegian Fjords

November 11, 2008: EFSA calls for data on arsenic levels in food and water


September 5, 2008: Exposure to inorganic arsenic may increase diabetes risk

August 8, 2008: Arsenolipids in Fish Oil

March 15, 2008: Arsenic in rice milk exceeds EU and US drinking water standards

February 15, 2008: Arsenic speciation in rice: a question of the rice plant species

January 31, 2008: New arsenic species detected in carrot samples

December 26, 2007: The effect of thermal treatment on the arsenic speciation in food

March 7, 2007: Elevated Arsenic Levels Found In Rice Grown In South Central States of the USA

September 7, 2006: Toxic inorganic arsenic species found in Japanese seaweed food

April 6, 2006: Testing finds: Arsenic added to feedstuff finds its way into chicken meat

October 6, 2005: Two new Thio-Arsenosugars found in Scallops

August 3, 2005: Surprisingly high concentrations of toxic arsenic species found in U.S. rice

May 15, 2005: Use of organoarsenicals as pesticides may lead to contamination of soils and groundwater with toxic arsenic species

April 27, 2005: Conflict raised in chicken arsenic debate
last time modified: March 7, 2012