Background: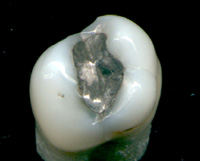 Mercury-based fillings have been used by dentists to repair teeth for well over a century. But in recent decades, their use has become controversial due to concerns about exposure to potentially toxic mercury. Mercury-containing dental amalgam fillings are a significant source for human mercury exposure that clearly can be related to the body burden of mercury.
Photo: Dental amalgam filling
Whether the resulting body burden has toxic consequences is a still ongoing discussion. While the toxicological literature on the harmful effects of mercury is overwhelming, the epidemiologists often fail to find relationships between exposure and health effects. While several countries have stopped to use amalgam fillings, in North America, the traditional view is that the advantages of mercury-containing amalgam outweigh any possible health risks, and for this reason, mercury-containing dental amalgams are still widely used.
The new study:
Amid the on-going controversy over the safety of mercury-containing dental fillings, a University of Saskatchewan research team has shed new light on how the chemical forms of mercury at the surface of fillings change over time.
Their work, published in the November issue of the American Chemical Society journal Chemical Research in Toxicology, shows that the surface forms of mercury in older "silver" fillings (also known as amalgams) may be less toxic than previously thought.
"The dental amalgam on the surface of an old tooth filling may have lost as much as 95 per cent of its mercury but what's left is in a form that is unlikely to be toxic in the body," said U of S Canada Research Chair Graham George who led the study.
But the team cautions that due to the significant mercury loss over time, human exposure to mercury lost from fillings is "still of concern" and that further research is needed to determine when, how and in what form mercury is lost from fillings.
"Mercury can potentially exist in several different chemical forms, each with a different toxicity," said George. "Prior to our work, little was known about how the chemical forms of mercury in dental amalgam might change over time."
The team used a special X-ray absorption technique (EXAFS) at the Stanford Sychrotron Radiation Lightsource to probe the amount and chemical nature of mercury at the surface of both freshly prepared metal fillings and aged fillings (about 20 years old) obtained from the University of Saskatchewan dental clinic's tooth bank.
While the fresh fillings contained metallic mercury, which can be toxic, aged fillings contained a form of mercury called beta-mercuric sulfide or metacinnabar which is unlikely to be toxic in the body. For this reason, grinding or polishing during dental cleaning is unlikely to cause any toxic effects.
But of potential greater concern is the nature of the surface mercury lost from fillings. This may be due to evaporation (with subsequent inhalation and leaching of mercury into saliva), exposure to some kinds of dental hygiene products such as those containing peroxides, exposure to certain sulphur-containing foods (such as onion and garlic or coffee), or other factors.
"Possibly this missing mercury is in the less toxic form of mercury (metacinnabar) abraded from the surface of the filling. Or alternatively, it may be mercury lost prior to formation of the metacinnabar through various types of exposures," said George.
Other members of the team include Satya Singh, Jay Hoover, and Canada Research Chair Ingrid Pickering. This project was supported by a grant from the Canadian Institutes of Health Research.
Source: Adapted from
University of Saskatchewan

The new study:

Graham N. George, Satya P. Singh, Jay Hoover and Ingrid J. Pickering,
The Chemical Forms of Mercury in Aged and Fresh Dental Amalgam Surfaces
, Chem. Res. Toxicol., 22/11 (2009) 1761–1764.
DOI: 10.1021/tx900309c

Related Studies

T.A. DeRouen, M.D. Martin, B.G. Leroux, et al.,
Neurobehavioral effects of dental amalgam in children: a randomized clinical trial
, JAMA. 295 (2006) 1784–1792.
DOI: 10.1001/jama.295.15.1784

B.A. Dye, S.E. Schober, C.F. Dillon, R.L. Jones, C. Fryar, M. McDowell, T.H. Sinks,
Urinary mercury concentrations associated with dental restorations in adult women aged 16-49 years: United States, 1999-2000
, Occup. Environ. Med., 62/6 (2005) 368 - 375.
DOI:

10.1136/oem.2004.016832

J. Mutter, J. Naumann, C. Sadaghiani, H. Walach, G. Drasch,
Amalgam studies: disregarding basic principles of mercury toxicity
, Int. J. Hyg. Environ. Health, 207 (2004) 391-397.
DOI: 10.1078/1438-4639-00305

T.W. Clarkson, L. Magos, G.J. Myers,
Human exposure to mercury: the three modern dilemmas
, J. Tace Elem. Exp. Med., 16/4 (2004) 321-343.
DOI: 10.1002/jtra.10050

M. Berlin,
Mercury in dental-filling materials - an updated risk analysis in environmental medical terms
, The dental Material Commission- Care and Consideration (2003). Available from:
http://www.drfarid.com/Swedish%20mercury.pdf

Maryam Khordi-Mood, Ali Reza Sarraf-Shirazi, Mahdi Balali-Mood,
Mercury excretion following amalgam fillings in children
, Clin. Toxicol., 39/7 (2001) 7801-705.
DOI: 10.1081/CLT-100108510

A. Kingman, T. Albertini, L.J. Brown,
Mercury concentrations in urine and whole blood associated with amalgam exposure in a US military population
, J. Dent. Res., 77 (1998) 461-471.
DOI: 10.1177/00220345980770030501

L. Björkman, G. Sandborgh-Englund, J. Ekstrand,
Mercury in saliva and feces after removal of amalgam fillings
, Toxicol. Appl. Pharmacol., 144/1 (1997) 156-162.
DOI: 10.1006/taap.1997.8128

E. Berdouses, T.K. Vaidyanathan, A. Dastane, C. Weisel, M. Houpt, and Z. Shey,
Mercury Release from Dental Amalgams: An in vitro Study Under Controlled Chewing and Brushing in an Artificial Mouth
, Journal of Dental Research, 74/5 (1995) 1185-1193.
DOI: 10.1177/0022034595074005070

Stefan Halbach,
Amalgam Tooth Fillings and Man's Mercury Burden
, Hum. Exp. Toxicol., 13 (1994) 496.
DOI: 10.1177/096032719401300708


Gorm Danscher, Preben Hørsted-Bindslev, Jørgen Rungby,
Traces of mercury in organs from primates with amalgam fillings
, Exp. Mol. Pathol., 52/3 (1990) 291-299.
DOI: 10.1016/0014-4800(90)90070-T

L.J. Hahn, R. Kloiber, M.J. Vimy, Y. Takahashi, F.L. Lorscheider,
Dental "silver" tooth fillings: a source of mercury exposure revealed by whole-body image scan and tissue analysis
,
The FASEB Journal, 3 (1989) 2641-2646.

M. Ahlqwist, C. Bengtsson, B. Furunes, L. Hollender, L. Lapidus,
Number of amalgam tooth fillings in relation to subjectively experienced symptoms in a study of Swedish women
, Community Dent. Oral. Epidemiol., 16 (1988) 227- 231.
DOI:

10.1111/j.1600-0528.1988.tb01760.x

D.W. Eggleston, M. Nylander,
Correlation of dental amalgam with mercury in brain tissue,
J. Prosthet. Dent., 58 (1987) 704-707.
DOI: 10.1016/0022-3913(87)90424-0

Related EVISA Resources:

Link Database: All about amalgam

Link Database: Toxicity of inorganic mercury species

Related information

R. Lauer's Amalgamation Information Site (in German)

Wikipedia: Dental amalgam controversy


Related News
(Newest first)

July 3, 2018: EU restricts mercury fillings for children

October 12, 2013: Minamata Convention is adopted

August 6, 2013: Bacterial methylation of mercury not only starting from oxidized mercury

March 22, 2013: Mercury isotope fractionation provides new tool to trace the source of human exposure

January 21, 2013: UNEP mercury treaty exempts vaccines for children

January 14, 2010: Form of Mercury in Older Dental Fillings Unlikely to be Toxic

April 19, 2008: Microbeam analysis of dental amalgam reveals high mobility of mercury
last time modified: June 29, 2020