Background
:
Mercury amalgam restorative material generally contains 50% mercury in a complex mixture of copper, tin, silver, and zinc. Mercury is a strong toxin and has been demonstrated to have damaging effects on the kidney, central nervous system, and cardiovascular system. Realizing the dangers of mercury amalgam, Norway, Denmark, and Sweden have enacted legislation that has banned mercury amalgam in their countries.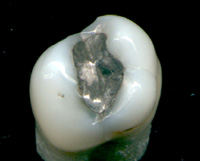 Dental amalgam fillings are a major source of mercury exposure in Canada, compared to food (including fish), indoor and outdoor air, drinking water and soil. The primary route of exposure to mercury from amalgam is via inhalation of elemental mercury vapor emanating from in-place amalgam fillings. It has been well documented that this mixture
continually emits mercury vapor
, which is dramatically increased by chewing, eating, brushing, and drinking hot liquids.
Despite such well studied mercury exposure by dental amalgam,
US FDA considers dental amalgam fillings safe
for adults and children ages 6 and above. The agency states that "the amount of mercury measured in the bodies of people with dental amalgam fillings is well below levels associated with adverse health effects".
After years of negotiations, 19 January 2013, Governments agreed to the text of a global legally binding instrument on mercury and gave birth to the "
Minamata Convention on Mercury
". This mercury treaty is meant to lift health threats to the lives of millions of people worldwide by a global legally-binding treaty to prevent mercury emissions & releases to the environment. Interestingly the use of mercury in medical applications was widely excluded from the ban.
The new study from Canada:
This new study is the first North American population-based survey to specifically quantify the dental amalgam load. It is based on the Canadian Health Measures Survey (CHMS) conducted between 2007 and 2009, by Health Canada and Statistics Canada, using a statistically representative population survey of 5,604 Canadians aged 6 years to 79 years. Unique to this survey was the collection of data for survey participants of the number of tooth surfaces that were specifically restored with dental amalgam. Besides the data on the number of dental amalgam restorations, the CHMS further included urine analysis for mercury concentration (UHg), providing a direct measure of the incremental increase in UHg per amalgam-filled tooth surface. The focus of this study was to determine the exposure to Hg from dental amalgam among participants of the CHMS, and then to extrapolate those results to the Canadian population older than 6 years of age. Subsequently from the total exposed population, the author calculated the number of Canadians expected to exceed the dose associated with the Canadian chronic reference exposure level (REL) for elemental mercury, as well as the number of amalgam-filled tooth surfaces that should not, on average, result in exceeding the dose associated with that Canadian REL.

The results of this study show that about 64% of all Canadians aged 6 years and older cary one or more amalgam-restored tooth surfaces. Altogether the Canadians have about 191 million amalgam surfaces, representing about 76.4 million amalgam-restored teeth. The total mass of Hg carried in those teeth is approximately 38 metric tons. Of Canadians with dental amalgam restorations, 80.4% experience a daily dose of Hg that exceeds the Canadian REL-associated dose. The number of amalgam surfaces that will not result in exceeding the REL-associated dose varied from two amalgam surfaces (children, both sexes) to seven surfaces (adult males).

The author notes that "it is apparent from the decline in amalgam placement, and increase in use of alternate materials, that viable alternative (non-Hg) restorative materials exist and reliance on dental amalgam for the restoration of carious teeth is no longer necessary or essential". Anyhow, the UNEP Mercury treaty has not banned the further use of dental amalgan, but allows to phase down amalgam use over a time period appropriate to domestic needs, an approach advocated by the World Health Organisation (WHO).


The original study

G. Mark Richardson,
Mercury Exposure and Risks from Dental Amalgam in Canada: The Canadian Health Measures Survey 2007–2009
, Hum. Ecol. Risk Assess., 20/2 (2014) 433-447.
DOI: 10.1080/10807039.2012.743433


Related studies
A list of 744 papers related to dental amalgam is reviewed within the

IAOMT Position Paper Against Dental Mercury Amalgam

Joachim Mutter,
Is dental amalgam safe for humans? The opinion of the scientific committee of the European Commission
, J. Occup. Med. Toxicol., 6 (2011) 2.
http://www.ncbi.nlm.nih.gov/pmc/articles/PMC3025977/pdf/1745-6673-6-2.pdf

D.R. Laks,
Assessment of chronic mercury exposure within the U.S. population, National Health and Nutrition Examination Survey, 1999-2006
, Biometals, 22/6 (2009) 1103-1114.
doi: 10.1007/s10534-009-9261-0

Hal A. Huggins,
Medical Implications of Dental Mercury: A Review
, EXPLORE, 3/2 (2007) 110–117.
doi: 10.1016/j.explore.2006.12.008

Michael N. Bates,
Mercury amalgam dental fillings: An epidemiologic assessment
, Int. J. Hyg. Environ. Health, 209/4 (2006) 309–316.
doi: 10.1016/j.ijheh.2005.11.006

Related information

American Dental Association (ASA): Dental Amalgam: What Others Say

British Dental Association (BDA): Dental amalgam - Fact file

Consumers for Dental Choice: Mercury free dentistry

DAMS, Dental Amalgam Mercury Solutions: Dental Amalgam Fillings

EPA: EPA's Roadmap for Mercury

FDA: About Dental Amalgam Fillings

GreenFacts: Tooth filling materials: Dental amalgams & alternative materials

International Academy of Oral Medicine and Toxicology: The Scientific Case against Amalgam

International Academy of Oral Medicine and Toxicology: Smooking Teeth

International Academy of Oral Medicine and Toxicology: IAOMT Position Paper Against Dental Mercury Amalgam

Kickstarter: "You Put What In My Mouth?"

National Health Federation: The Deadly Dangers of Mercury Contamination

R. Lauer's Amalgamation Information Site (in German)

UNEP: Minamata Convention on Mercury

WHO: Future Use of Materials for Dental Restoration

Wikipedia: Dental amalgam controversy

Related EVISA Resources

EVISA Link Database: All about dental amalgam

EVISA Link Database: Toxicity of mercury

Related EVISA News

November 20, 2013: EPA Study: Mercury Levels in Women of Childbearing Age Drop 34 Percent

October 12, 2013: Minamata Convention is adopted

August 6, 2013: Bacterial methylation of mercury not only starting from oxidized mercury

March 22, 2013: Mercury isotope fractionation provides new tool to trace the source of human exposure

January 21, 2013: UNEP mercury treaty exempts vaccines for children

January 14, 2010: Form of Mercury in Older Dental Fillings Unlikely to be Toxic

April 19, 2008: Microbeam analysis of dental amalgam reveals high mobility of mercury
last time modified: October 13, 2016