Background:
Total arsenic consists of organic and inorganic arsenic, both of which are present in seafood in about 20 different chemical forms. It may be present in different organic chemical compounds (such as arsenobetaine) and in different inorganic chemical compounds (such as arsenite). Organic arsenic is not considered to be a health risk, but inorganic arsenic is very poisonous. Seafood is the most common source of arsenic in our diet, and mostly it is in the form of arsenobetaine, which is essentially non-toxic. Blue mussels can accumulate trace elements from the surroundings. Monitoring of inorganic arsenic in seafood is important in order to make a correct risk assessment.
Monitoring by NIFES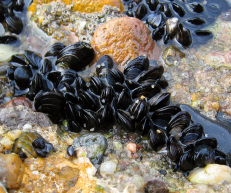 Since 1999 the
National Institute of Nutrition and Seafood Research (NIFES)
has annually (spring and autumn) analysed blue mussels from around 50 locations along the Norwegian coast in order to monitor the level of metals and other chemical components. The analysis are related to the Norwegian Food Safety Authorities surveillance programme.
Photo: Blue mussels (Mytilus edulis)
The results show that blue mussels from some locations in the
Sogne Fjord
and the
Hardanger Fjord
have had a high level of total arsenic, especially in the spring. Total arsenic includes all the different chemical forms of arsenic found in shellfish, both organic and inorganic. It is the inorganic arsenic forms that are toxic. In a food safety perspective, it is therefore important to examine the amount of inorganic arsenic in blue mussels. NIFES developed a new method in 2002 that can be used to measure the inorganic arsenic in addition to the total arsenic.
Data from the period 2002 to 2005 have occasionally shown unusually high levels of inorganic arsenic in blue mussels from these two fjords, says Kåre Julsham, Head of the Surveillance Research Programme at NIFES.
The observations are related to only a few locations. Also, one location which has shown a high level of inorganic arsenic one year has not necessarily shown a high content of inorganic arsenic the next year. This makes it difficult to identify the factors that cause the high level of inorganic arsenic, but it is possible that the levels are connected to algal blooms, says Julsham
The study is conducted in connection to the Norwegian Food Safety Authority Surveillance programme on mussels, and analyses of inorganic arsenic in blue mussels will continue with the same frequency as previously.
Not of significance with respect to food safety
Although the concentrations of inorganic arsenic was high in the Sogne Fjord and the Hardanger Fjord, the findings represent no threat to food safety.
If you weigh 70 kilos and eat 200 grams of blue mussels with the highest content of inorganic arsenic every week of your life, your provisional Tolerable Weekly Intake (PTWI) will be exceeded by 10 per cent. This is a very unlikely scenario, says Julshamn.
PTWI stands for Provisional Tolerable Weekly Intake. It describes the amount of a substance that can be eaten every week throughout a person`s life with no risk of negative health effects. Eating more than the PTWI limit does not pose an immediate threat, but the safety margin is reduced. Read more about PTWI below.
Concentrations of inorganic arsenic
In the Sogne Fjord the concentration of inorganic arsenic in blue mussels varied between 0.002 to 3.9 mg per kilo of blue mussel, depending on location. The corresponding concentration of arsenic in mussels from the Hardanger Fjord varied from 0.001 to 5.8 mg per kilo. An inorganic arsenic content of 5.8 mg per kilo of wet weight is among the highest that has been observed in marine animals.
A high level of total arsenic involves an increased level of inorganic arsenic
The results showed that blue mussels with a high concentration of total arsenic had a high proportion of inorganic arsenic, and that this proportion increased when the concentration of total arsenic was above a certain level. At the highest observed concentration of total arsenic, the share of inorganic arsenic accounted for as much as 42% of the total arsenic.
Arsenic in fish
Analyses of fish fillet show that inorganic arsenic account for less than 1% of the total arsenic, and that most of the arsenic is in the organic form of arsenobetain, which is essentially non-toxic.
Source: adapted from
NIFES

Reference

Jens J. Sloth
, Kåre Julshamn,
Survey of Total and Inorganic Content in Blue Mussels (Mytilus edulis L.) from Norwegian Fjords: Revelation of Unusual High Levels of Inorganic Arsenic,
J. Agric. Food Chem., 56 (2008) 1269-1273.
DOI: 10.1021/jf073174+

Related studies

Jens J. Sloth
,
Erik H. Larsen
, Kåre Julshamn,
Survey of Inorganic Arsenic in Marine Animals and Marine Certified Reference Materials by Anion Exchange High-Performance Liquid Chromatography-Inductively Coupled Plasma Mass Spectrometry
, J. Agri. Food Chem., 53/15 (2005) 6011-6018.
DOIi: 10.1021/jf047950e

E. Argese, C. Bettiol, C. Rigo, S. Bertini, S. Colomban, P.F. Ghetti,
Distribution of arsenic compounds in Mytilus galloprovincialis of the Venice lagoon (Italy)
, Sci. Total Environ., 348/1-3 (2005) 267-277.
DOI: 10.1016/j.scitotenv.2004.12.071

Related EVISA Resources

Link Database: Arsenic species and human health/nutrition/metabolism


Link Database: Toxicity of arsenic species


Related EVISA News

November 11, 2008: EFSA calls for data on arsenic levels in food and water

September 5, 2008: Exposure to inorganic arsenic may increase diabetes risk

August 8, 2008: Arsenolipids in Fish Oil

September 7, 2006: Toxic inorganic arsenic species found in Japanese seaweed food

October 6, 2005: Two new Thio-Arsenosugars found in Scallops

August 25, 2004: Toxicity of organoarsenicals revisited
last time modified: June 27, 2020