Background:
Mercury is a toxin that spreads around the globe mainly through the burning of coal, industrial use and through natural processes such as volcanic eruptions. Various forms of mercury are widely found in sediments and water. Especially the organic mercury form called methylmercury bioaccumulates in aquatic food chains, especially in large fish.

For some 40 years scientists have known that when mercury is released into the environment certain bacteria can transform inorganic merecury into highly toxic methylmercury. Exactly how bacteria make this happen has eluded scientists. The challenge was to find proteins that can transfer a certain type of methyl group and to identify the genes responsible for their production.

The new study: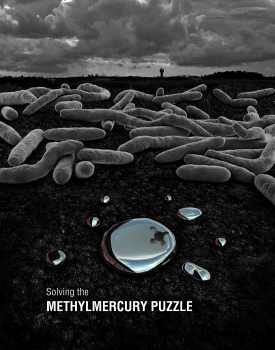 Image by Thomas Splettstoesser [info@scistyle.com]
A team led by researchers at Oak Ridge National Laboratory has now solved the puzzle. Results of the study, published in the journal Science, provide the genetic basis for this process, known as microbial mercury methylation, and have far-reaching implications.

"Until now, we did not know how the bacteria convert mercury from natural and industrial processes into methylmercury," said ORNL's Liyuan Liang, a co-author and leader of a large Department of Energy-funded mercury research program that includes researchers from the University of Missouri-Columbia and University of Tennessee.

"This newly gained knowledge will allow scientists to study proteins responsible for the conversion process and learn what controls the activity," said Liang, adding that it may lead to ways of limiting methylmercury production in the environment.

Ultimately, by combining chemical principles and genome sequences, the team identified two genes, which they named hgcA and hgcB. Researchers experimentally deleted these genes one at a time from two strains of bacteria, which caused the resulting mutants to lose the ability to produce methylmercury. Reinserting these genes restored that capability, thus verifying the discovery.

The researchers found that this two-gene cluster is present in all known mercury-methylating bacteria, and they predicted that more than 50 other microorganisms may methylate mercury because they have a pair of similar genes.

Another key to the development was the collection of talent assembled to work on this problem.

"This discovery was made possible by our diverse team, which includes scientists with expertise in chemistry, computational biology, microbiology, neutron science, biochemistry and bacterial genetics," said Liang, who rated this paper as one of the most satisfying of her career.

In a report just released by the United Nations Environmental Programme, Achiim Steiner, United Nations under-secretary general and executive director of UNEP, notes that "mercury remains a major global, regional and national challenge in terms of threats to human health and the environment."

This research was funded by DOE's Office of Science. Other ORNL co-authors of the paper, titled "The Genetic Basis for Bacterial Mercury Methylation," are Jerry Parks, Alexander Johs, Mircea Podar, Richard Hurt, Stephen Tomanicek, Yun Qian, Steven Brown, Craig Brandt, Anthony Palumbo, Jeremy Smith and Dwayne Elias. Podar, Brown, Smith and Elias hold joint appointments at the University of Tennessee. Authors from the University of Missouri are Romain Bridou, Steven Smith and Judy Wall.

UT-Battelle manages ORNL for DOE's Office of Science. The Office of Science is the single largest supporter of basic research in the physical sciences in the United States and is working to address some of the most pressing challenges of our time. For more information, please visit http://science.energy.gov/

Source: adapted from Oak Ridge National Laboratory

The original study
:

Jerry M. Parks, Alexander Johs, Mircea Podar, Romain Bridou, Richard Hurt, Steven D. Smith, Stephen J. Tomanicek, Yun Qian, Steven D. Brown, Craig C. Brandt, Anthony V. Palumbo, Jeremy C. Smith, Judy D. Wall, Dwayne A. Elias, Liyuan Liang,
The Genetic Basis for Bacterial Mercury Methylation
, Science, 2013.
DOI: 10.1126/science.1230667

Related EVISA Resources

Link database: Mercury exposure through the diet

Link database: Environmental cycling of mercury

Link database: Toxicity of Organo-mercury compounds

Link database: Research projects related to organo-mercury compounds

Related EVISA News

January 14, 2013: Mercury Levels in Humans and Fish Around the World Regularly Exceed Health Advisory Levels

January 14, 2013: New data shows: Mercury emissions rising globally

December 9, 2012: Mercury in fish more dangerous than previously believed; Scientists urge for effective treaty ahead of UN talks

October 12, 2012: Prenatal mercury intake linked to ADHD


July 31, 2012: FDA Lands in Court Over Mercury in Fish

June 17, 2012: Factors Affecting Methylmercury Accumulation in the Food Chain

March 1, 2012: High levels of mercury in newborns likely from mothers eating contaminated fish

October 15, 2011: Mercury pollution in the Great Lakes region -- nearly forgotten, but not gone

August 16, 2010: Methylmercury: What have we learned from Minamata Bay?

August 21, 2009: USGS Study Reveals Mercury Contamination in Fish Nationwide

May 3, 2009: Ocean mercury on the rise

February 11, 2009: Mercury in Fish is a Global Health Concern

October 30, 2008: Precautionary approach to methylmercury needed

March 11, 2007: Methylmercury contamination of fish warrants worldwide public warning

October 9, 2006: Linking atmospheric mercury to methylmercury in fish

August 16, 2006: Mercury pollution threatens health worldwide, scientists say

June 8, 2006: Methylmercury in fish: Can you cook it out ?

February 17, 2006: Study shows link between clear lakes and methylmercury contamination in fish


February 9, 2006: Study show high levels of mercury in women related to fish consumption

August 29, 2005: Is methyl mercury limiting the delight of seafood ? - To answer this question is a challenge for elemental speciation analysis

January 12, 2005: Number of fish meals is a good predictor for the mercury found in hair of environmental journalists

April 27, 2004: New kind of mercury found in fish

April 27, 2004: FDA/EPA recommends pregnant women to restrict their fish consumption because of methylmercury content
last time modified: February 8, 2013