Background:
In chemistry, the term "speciation" has been defined by IUPAC as the distribution of an element amongst defined chemical species in a system. The chemical species are specific forms of an element defined as to isotopic composition, electronic or oxidation state, and/or complex or molecular structure. Speciation analysis is the analytical activity of identifying and/or measuring the quantities of one or more individual chemical species in a sample. The research fields of speciation analysis have changed their focus during the development of the methodology from environmental risk analysis for organometallic compounds, such as tributyltin, methylmercury or tetraethyllead in the early days, to the study of the biological activity, toxicity and metabolic pathways of trace elements. Trace element species discussed by scientists in this areas are enzymes (Zn), vitamins (Co), metallo-proteins (Se), metallo-drugs (Pt), toxins (As, Hg, Cr(VI), Cd, Pb) and their metabolic forms. The sensitivity and selectivity of methods for speciation analysis have been improved during the development in recent times allowing the analysis of complex biological systems. Even further, the evolution of omics-based methods makes it possible to evaluate biomolecules on a large scale, greatly expanding the analytical toolkit available to examine chemical speciation in the life sciences. In order to address the marriage between such omics-based methods and speciation analysis, terms such as metalloproteomics for the discussion of metal-containing proteins and metallomics for the role of metals in organisms have been coined.

The umbrella term "speciomics"
Recently, the group of Prof. Zezzi-Arruda from the University of Campinas (Brazil) have proposed to broaden such approach limited to metals by including all chemical species. They propose to use "speciomics" as "umbrella" term containing all omics approaches devoted to chemical species in biological systems.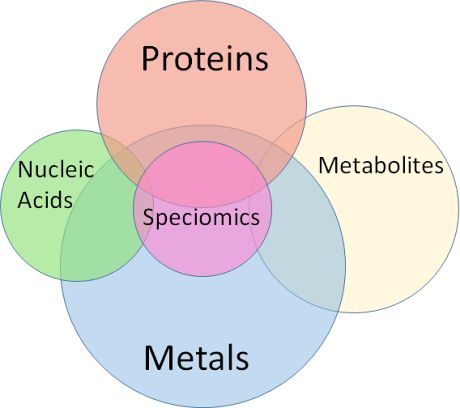 Figure: Types of molecules examined in speciomic studies. (The size of each cluster is an estimation of the number of studies published).

The concept of "speciomics" is discussed in a review paper published in May 18 in the Journal of Proteomics. The authors stress synergic effect between chemical speciation and omics, demonstrating an emerging area of research with a multitude of possibilities in terms of applications and further developments. They also admit that the complexity involved in performing speciomics studies is enormous and might call for artificial intelligence as an aid for data analysis.


The original publication

Marco Aurélio Zezzi Arruda
, Jemmyson Romário de Jesus, Claudia Andrea Blindauer, Alan James Stewart,
Speciomics as a concept involving chemical speciation and omics
, Journal of Proteomics, 263 (2022) 104615.
DOI: 10.1016/j.jprot.2022.104615

Related publications (newest first)

H. Haraguchi,
Metallomics: the history over the last decade and a future outlook
, Metallomics, 9/8 (2017) 1001-1013.
DOI: 10.1039/c7mt00023e

M.A.O. da Silva, A. Sussulini, M.Z. Arruda,
Metalloproteomics as an interdisciplinary area involving proteins and metals,
Expert Rev. Proteome. 7 (2010) 387–400.
DOI: 10.1586/EPR.10.16

S. Mounicou, J. Szpunar, R. Lobinski,
Metallomics: the concept and methodology
, Chem. Soc. Rev. 38 (2009) 1119–1138.
DOI: 10.1039/b713633c

Y.F. Li, C. Chen, Y. Qu, Y. Gao, B. Li, Y. Zhao, Z. Chai,
Metallomics, elementomics, and analytical techniques,
Pure Appl. Chem. 80 (2008) 2577–2594.
DOI: 10.1351/pac200880122577

H. Haraguchi,
Metallomics as integrated biometal science
, J. Anal. At. Spectrom. 19 (2004) 5–14.
DOI: 10.1039/b308213j

D.M. Templeton, F. Ariese, R. Cornelis, L.G. Danielsson, H. Muntau, H.P. Van Leeuwen, R. Łobinski,
Guidelines for terms related to chemical speciation and fractionation of elements. Definitions, structual aspects and methodological approaches (IUPAC recommendations 2000)
, Pure Appl. Chem. 72 (2000) 1453–1470.
DOI: 10.1351/pac200072081453

Related EVISA Resources

Brief summary: Speciation analysis for the study of metallodrugs and their biomolecular interactions

Brief summary: Speciation as a discipline in Analytical Chemistry – Definitions

Related EVISA News (newest first)
last time modified: May 25, 2022