WATCHUNG, N.J.
,
June 13, 2014
/PRNewswire-iReach/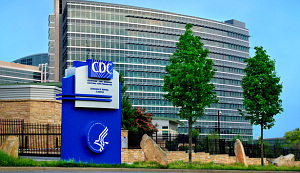 Photo: CDC Headquarter in Atlanta
Just months after U.S. Congressman
Bill Posey
compared the Center for Disease Control (CDC)'s vaccine safety studies to the SEC's
Bernie Madoff
scandal, malfeasance in the CDC's studies of thimerosal-containing vaccines has, for the first time, been documented in peer- reviewed scientific literature. While the CDC states on its website that "low doses of thimerosal in vaccines do not cause harm, and are only associated with minor local injection site reactions like redness and swelling at the injection site," the journal
BioMed Research International
now provides direct evidence that the CDC's safety assurances about the mercury-containing preservative are not fact-based, according to the article's lead author,
Brian Hooker
, PhD.
The new study
:
The paper opens by citing over
165 studies
that have found Thimerosal to be harmful, including 16 studies that had reported outcomes in human infants and children of death, acrodynia, poisoning, allergic reaction, malformations, auto-immune reaction, Well's syndrome, developmental delay and neurodevelopmental disorders including tics, speech delay, language delay, ADHD and autism. These findings by multiple independent research groups over the past 75+ years have consistently found thimerosal to be harmful. "Substantial scientific evidence exists and has existed for many years that the vaccine ingredient thimerosal is a developmental neurotoxin" says George Lucier, former Associate Director of the National Toxicology Program.
Studies showing harm from thimerosal sharply contradict published outcomes of six CDC coauthored and sponsored papers – the very studies that CDC relies upon to declare that thimerosal is "safe" for use in infant and maternal vaccines. Dr. Hooker, biochemist and vaccine industry watchdog, said of the six CDC studies, "Each of these papers is fatally flawed from a statistics standpoint and several of the papers represent issues of scientific malfeasance. For example, important data showing a relationship between thimerosal exposure and autism are withheld from three of the publications (Price et al. 2010, Verstraeten et al. 2003 and Madsen et al. 2003). This type of cherry-picking of data by the CDC in order to change the results of important research studies to support flawed and dangerous vaccination policies should not be tolerated."
Dr. Boyd Haley, international expert in mercury toxicity and a co-author of the recently published paper said "There is no doubt that authorities in the CDC have initiated and participated in a cover-up of vaccine-induced damage from thimerosal to our children ----and this I consider criminal." The paper, "Methodological Issues and Evidence of Malfeasance in Research Purporting to Show Thimerosal in Vaccines is Safe," was published on June 6 and contains eight pages of evidence that the CDC has had knowledge of the vaccine preservative's neurological risks, yet continues to cover them up.
The paper concludes, "five of the publications examined in this review were directly commissioned by the CDC, raising the possible issue of conflict of interests or research bias, since vaccine promotion is a central mission of the CDC. Conceivably, if serious neurological disorders are found to be related to Thimerosal in vaccines, such findings could possibly be viewed as damaging to the vaccine program."
Dr. Hooker has submitted over 100 FOIA requests to the CDC over the past 10 years and has amassed thousands of pages of documents showing malfeasance in the CDC's vaccine safety program. Hooker revealed that one CDC document quoted a top official instructing CDC employees to "Review all correspondences and documents to see if there is 'foreseeable harm' to the agency if they were released" so the documents could be redacted by CDC attorneys prior to release.
Barry Segal, founder of the Focus Autism Foundation and former entrepreneur whose company sales peaked near $2 billionsaid, "We are in the process of exposing what may be the biggest federal scandal ever with immense damage to our economy and our people, especially our children who are the future of our country. Their health has been compromised by mercury in vaccines. We need Congress to take action now. Thimerosal must be banned."
A more effective vaccine preservative "2PE" has replaced thimerosal in many other vaccines and possesses a much better safety profile according to Dr. Hooker.
The Focus Autism Foundation is dedicated to providing information to the public that exposes the cause or causes of the autism epidemic and the rise of chronic illnesses – focusing specifically on the role of vaccinations. To learn more, visit FocusAutism.org. A Shot of Truth is an educational campaign sponsored by Focus Autism.
Source: Press Release by
A shot of truth

The cited study
:

Brian Hooker, Janet Kern, David Geier, Boyd Haley, Lisa Sykes, Paul King, Mark Geier,
Methodological Issues and Evidence of Malfeasance in Research Purporting to Show Thimerosal in Vaccines Is Safe
, BioMed Res. Int., 2014 (2014) ID 247218.
DOI: 10.1155/2014/247218

Related studies
:

K.M. Madsen, M.B. Lauritsen, C.B. Pedersen, P. Thorsen, A.-M. Plesner, P.H. Andersen, P.B. Mortensen,
Thimerosal and the occurrence of autism: negative ecological evidence from Danish population-based data
, Pediatrics, 112/3 (2003) 604–606.
DOI: 10.1542/peds.112.3.604

P. Stehr-Green, P. Tull, M. Stellfeld, P.-B. Mortenson, and D. Simpson,
Autism and thimerosal-containing vaccines: lack of consistent evidence for an association
, Am. J. Prevent. Med., 25/2 (2003) 101–106.
DOI: 10.1016/S0749-3797(03)00113-2

A. Hviid, M. Stellfeld, J. Wohlfahrt, M. Melbye,
Association between thimerosal-containing vaccine and autism
, J. Am. Med. Assoc., 290/13 (2003) 1763–1766.
DOI: 10.1001/jama.290.13.1763

N. Andrews, E. Miller, A. Grant, J. Stowe, V. Osborne, B. Taylor,
Thimerosal exposure in infants and developmental disorders: a retrospective cohort study in the United Kingdom does not support a causal association
, Pediatrics, 114/3 (2004) 584–591.
DOI: 10.1542/peds.2003-1177-L

T. Verstraeten, R. L. Davis, F. DeStefano, Tracy A. Lieu, Philip H. Rhodes, Steven B. Black, Henry Shinefield, Robert T. Chen,
Safety of thimerosal-containing vaccines: a two-phased study of computerized health maintenance organization databases
, Pediatrics, 112/5 (2003) 1039–1048.
Publisher's site

C.S. Price, W.W. Thompson, B. Goodson, E.S. Weintraub, L.A. Coen, V.L. Hinrichsen, M. Marcy, A. Robertson, E. Eriksen, E. Lewis, P. Bernal, D. Shay, R.L. Davis, F. DeStefano,
Prenatal and infant exposure to thimerosal from vaccines and immunoglobulins and risk of autism
, Pediatrics, 126/4 (2010) 656–664.
DOI: 10.1542/peds.2010-0309

Related information

U.S. House of Representatives' 2003 report: Mercury in Medicine - Taking Unnecessary Risks (the result of a 3-year investigation)

FDA: Thimerosal in vaccines

FDA: Mercury in Food and Drugs

CDC: Thimerosal in Vaccines: A Joint Statement of the American Academy of Pediatrics and the Public Health Service

Coalition for Mercury-free Drugs (CoMeD): Calls for Ban on Mercury in Vaccines

Coalition for Mercury-free Drugs (CoMeD): Documents related to the use of thimerosal in vaccines

Coalition for Mercury-free Drugs (CoMeD): The Viability of Using Non-mercury Preservatives in Vaccines

Vaccination News, March 14, 2011: Thimerosal Containing Vaccines, Part I

SafeMinds: Summary of Supportive Science Regarding Thimerosal & Vaccines


Wikipedia: Thiomersal controversy


Related EVISA Resources

Link database: Toxicity of organic mercury compounds

Link database: All about thimerosal (thiomersal)

News about Thimerosal

Advanced Search: All about Thimerosal

Brief summary: Speciation analysis for the study of metallodrugs and their biomolecular interactions

Related EVISA News

May 5, 2014: Global policy on the use of mercury as a preservative in vaccine called discriminatory

September 12, 2013: Scientists reveal how organic mercury can interfer with vision

January 21, 2013: UNEP mercury treaty exempts vaccines for children

January 14, 2013: United Nations Global Mercury Treaty: Fifth and final session

December 18, 2012: Pediatricians Argue to Keep Thimerosal in Some Vaccines

October 12, 2012: Prenatal mercury intake linked to ADHD

July 15, 2012: World Health Organization Fails In Its Effort To Defend Mercury In Vaccines Before United Nations

June 19, 2012: Vaccine ingredient causes brain damage; some nutrients prevent it

October 28, 2011: WHO worries mercury treaty could affect costs and availability of vaccines

August 8, 2011: UNEP Global Mercury Treaty May Include Ban on Mercury in Medicine


June 19, 2011: Committee for Socio-economic Analysis agrees on two draft opinions on restriction proposals for mercury compounds under REACH


March 17, 2011: Researchers Urge the Removal of Mercury From Flu Shots


September 25, 2010: The European Chemical Agency (ECHA) calls for comments on reports proposing restrictions on mercury and phenylmercury

August 16, 2010: Methylmercury: What have we learned from Minamata Bay?


September 24, 2009: Huge field experiment for assessing human ethylmercury risk starting in october


July 15, 2009: New Study Finds: Thimerosal Induces Autism-like Neurotoxicity


May 15, 2008: New study will investigate the influence of environmental factors in autism


May 3, 2006: Texas Study Relates Autism to Environmental Mercury


March 24, 2006: Mercury Containing Preservative Alters Immune Function


April 27, 2005: New results about toxicity of thimerosal


February 11, 2005: New findings about Thimerosal Neurotoxicity
last time modified: June 14, 2014