Background:
More than one billion people worldwide rely on fish as an important source of animal protein, states the United Nations Food and Agriculture Organization. And while fish provide slightly over 7 per cent of animal protein in North America, in Asia they represent about 23 per cent of consumption.
Humans consume low levels of methylmercury by eating fish and seafood. Methylmercury compounds specifically target the central nervous system, and among the many effects of their exposure are visual disturbances.
The new study:
Visual disturbances related to mercury intoxication were previously thought to be solely due to methylmercury-induced damage to the brain visual cortex. However, after combining powerful synchrotron X-rays and methylmercury-poisoned zebrafish larvae, scientists have found that methylmercury may also directly affect vision by accumulating in the retinal photoreceptors, i.e. the cells that respond to light in our eyes.
Dr. Gosia Korbas, BioXAS staff scientist at the Canadian Light Source (CLS), says the results of this experiment show quite clearly that methylmercury localizes in the part of the photoreceptor cell called the outer segment, where the visual pigments that absorb light reside.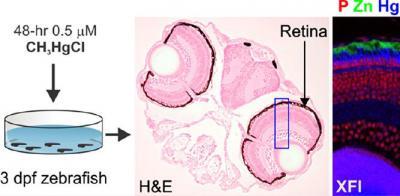 This cross-section of a zebrafish eye shows the localization of mercury in the outer segments of photoreceptor cells.
(Photo Credit: Malgorzata Korbas, Barry Lai, Stefan Vogt, Sophie-Charlotte Gleber, Chithra Karunakaran, Ingrid J. Pickering, Patrick H. Krone, and Graham N. George.)
"There are many reports of people affected by methylmercury claiming a constricted field of vision or abnormal colour vision," said Korbas. "Now we know that one of the reasons for their symptoms may be that methylmercury directly targets photoreceptors in the retina."

Korbas and the team of researchers from the University of Saskatchewan including Profs. Graham George, Patrick Krone and Ingrid Pickering conducted their experiments using three X-ray fluorescence imaging beamlines (2-ID-D, 2-ID-E and 20-ID-B) at the Advanced Photon Source, Argonne National Laboratory near Chicago, US, as well as the scanning X-ray transmission beamline (STXM) at the Canadian Light Source in Saskatoon, Canada.

After exposing zebrafish larvae to methylmercury chloride in water, the team was able to obtain high-resolution maps of elemental distributions, and pinpoint the localization of mercury in the outer segments of photoreceptor cells in both the retina and pineal gland of zebrafish specimens. The results of the research were published in ACS Chemical Biology under the title "Methylmercury Targets Photoreceptor Outer Segments".

Korbas said zebrafish are an excellent model for investigating the mechanisms of heavy metal toxicity in developing vertebrates. One of the reasons for that is their high degree of correlation with mammals. Recent studies have demonstrated that about 70 per cent of protein-coding human genes have their counterparts in zebrafish, and 84 per cent of genes linked to human diseases can be found in zebrafish.

"Researchers are studying the potential effects of low level chronic exposure to methylmercury, which is of global concern due to methylmercury presence in fish, but the message that I want to get across is that such exposures may negatively affect vision. Our study clearly shows that we need more research into the direct effects of methylmercury on the eye," Korbas concluded.

Source: Adapted from
Canadian Light Source, Inc.

The cited new study

Malgorzata Korbas, Barry Lai, Stefan Vogt, Sophie-Charlotte Gleber, Chithra Karunakaran, Ingrid J. Pickering, Patrick H. Krone, Graham N. George,
Methylmercury Targets Photoreceptor Outer Segments
, ACS Chem. Biol., 2013,
DOI: 10.1021/cb4004805

Related studies

Myriam Fillion, Mélanie Lemire, Aline Philibert, Benoît Frenette, Hope Alberta Weiler, Jason Robert Deguire, Jean Remy Davée Guimarães, Fabrice Larribe, Fernando Barbosa Jr, Donna Mergler,
Toxic risks and nutritional benefits of traditional diet on near visual contrast sensitivity and color vision in the Brazilian Amazon
, NeuroToxicology, 37 (2013) 173–181.
doi: 10.1016/j.neuro.2013.04.010

Malgorzata Korbas, Tracy C. MacDonald, Ingrid J. Pickering, Graham N. George, Patrick H. Krone,
Chemical Form Matters: Differential Accumulation of Mercury Following Inorganic and Organic Mercury Exposures in Zebrafish Larvae
, ACS Chem. Biol., 7/2 (2012) 411–420.
DOI: 10.1021/cb200287c

Dae-Seon Kim, Young Min Kwon, Hee-Ung Chung, Kyung Hee Choi, Hyun Jin Oh, Eun-Hee Lee,
Mercury exposure and color vision loss of some Koreans in a fishery area,
Molecular & Cellular Toxicology, 8/4 (2012) 407-412.
DOI: 10.1007/s13273-012-0050-4

Maritana Mela, Sonia Regina Grötzner, Alexia Legeay, Nathalie Mesmer-Dudons, Jean-Charles Massabuau, Dora Fix Ventura, Ciro Alberto de Oliveira Ribeiro,
Morphological evidence of neurotoxicity in retina after methylmercury exposure
, NeuroToxicology, 33/3 (2012) 407–415.
DOI: 10.1016/j.neuro.2012.04.009

D.N. Weber, V.P. Connaughton, J.A. Dellinger, D. Klemer, A. Udvadia, M.J. Carvan,
Selenomethionine reduces visual deficits due to developmental methylmercury exposures,
Physiol. Behav., 93 (2008) 250–260.
DOI: 10.1016/j.physbeh.2007.08.023

Mirella Telles Salgueiro Barboni, Marcelo Fernandes da Costa, Ana Laura de Araujo Moura, Claudia Feitosa-Santana, Mirella Gualtieri, Marcos Lago, Marcilia de Araujo Medrado-Faria, Luiz Carlos de Lima Silveira, Dora Fix Ventura,
Visual field losses in workers exposed to mercury vapor
, Environmental Research, 107 (2008) 124–131.
DOI: 10.1016/j.envres.2007.07.004

C. Feitosa-Santana, M.F. Costa, M. Lago, D.F. Ventura,
Long-term loss of color vision after exposure to mercury vapor
, Braz. J. Med. Biol. Res., 40/3 (2007) 409-414.
DOI: 10.1590/S0100-879X2006005000063

D.F. Ventura, A.L. Simoes, S. Tomaz, M.F. Costa, M. Lago, M.T.V. Costa, L.H.M. Canto-Pereira, J.M. de Souza, M.A.M. Faria, L.C.L. Silveira,
Colour vision and contrast sensitivity losses of mercury intoxicated industry workers in Brazil
, Environmental Toxicology and Pharmacology 19 (2005) 523–529.
DOI: 10.1016/j.etap.2004.12.016

Thomas M. Burbacher, Kimberly S. Grant, David B. Mayfield, Steven G. Gilbert, Deborah C. Rice,
Prenatal methylmercury exposure affects spatial vision in adult monkeys
, Toxicol. Appl. Pharmacol., 208 (2005) 21-28.
DOI: 10.1016/j.taap.2005.01.011

Pavel Urban, Fabriziomaria Gobba, Jana Nerudova, Edgar Lukas, Zdena Cabelkova, Miroslav Cikrt,
Color Discrimination Impairment in Workers Exposed to Mercury Vapor
, NeuroToxicology 24 (2003) 711–716.
DOI: 10.1016/S0161-813X(03)00036-6

Yoshinobu Goto, Junya Shigematsu, Shozo Tobimatsu, Taiji Sakamoto, Naoko Kinukawa, Motohiro Kato,
Different vulnerability of rat retinal cells to methylmercury exposure
, Current Eye Research, 23/3 (2001) 171–178.
DOI: 10.1076/ceyr.23.3.171.5469

Alessandro Cavalleri, Fabriziomaria Gobba,
Reversible Color Vision Loss in Occupational Exposure to Metallic Mercury
, Environ. Res. A, 77 (1998) 173–177.
doi: 10.1006/enrs.1997.3814

Alessandro Cavalleri, Luisa Belotti, Fabriziomaria Gobba, Giorgio Luzzana, Paolo Rosa, Paolo Seghizzi,
Colour vision loss in workers exposed to elemental mercury vapour
, Toxicology Letters, 77 (1995) 351-356.
DOI: 10.1016/0378-4274(95)03317-3

D.C. Rice, S.G. Gilbert,
Early chronic low-level methylmercury poisoning in monkeys impairs spatial vision
, Science, 216/4547 (1982) 759-761.
DOI: 10.1126/science.7079739

Related EVISA Resources

Link database: Mercury exposure through the diet

Link database: Mercury and human health

Link database: Toxicity of Organo-mercury compounds

Link database: Research projects related to organo-mercury compounds

Related EVISA News



February 8, 2013: ORNL scientists solve mystery about mercury methylation

January 14, 2013: Mercury Levels in Humans and Fish Around the World Regularly Exceed Health Advisory Levels

December 24, 2012: Mercury in food – EFSA updates advice on risks for public health

December 9, 2012: Mercury in fish more dangerous than previously believed; Scientists urge for effective treaty ahead of UN talks

October 12, 2012: Prenatal mercury intake linked to ADHD


July 31, 2012: FDA Lands in Court Over Mercury in Fish

June 17, 2012: Factors Affecting Methylmercury Accumulation in the Food Chain

March 1, 2012: High levels of mercury in newborns likely from mothers eating contaminated fish

October 15, 2011: Mercury pollution in the Great Lakes region -- nearly forgotten, but not gone

August 16, 2010: Methylmercury: What have we learned from Minamata Bay?

August 21, 2009: USGS Study Reveals Mercury Contamination in Fish Nationwide

May 3, 2009: Ocean mercury on the rise

February 11, 2009: Mercury in Fish is a Global Health Concern

October 30, 2008: Precautionary approach to methylmercury needed

March 11, 2007: Methylmercury contamination of fish warrants worldwide public warning

October 9, 2006: Linking atmospheric mercury to methylmercury in fish

August 16, 2006: Mercury pollution threatens health worldwide, scientists say

June 8, 2006: Methylmercury in fish: Can you cook it out ?

May 3, 2006: Texas Study Relates Autism to Environmental Mercury

February 17, 2006: Study shows link between clear lakes and methylmercury contamination in fish


February 9, 2006: Study show high levels of mercury in women related to fish consumption

August 29, 2005: Is methyl mercury limiting the delight of seafood ? - To answer this question is a challenge for elemental speciation analysis

January 12, 2005: Number of fish meals is a good predictor for the mercury found in hair of environmental journalists

April 27, 2004: New kind of mercury found in fish

April 27, 2004: FDA/EPA recommends pregnant women to restrict their fish consumption because of methylmercury content
last time modified: September 12, 2013