The EVISA web portal at www.speciation.net, providing valuable speciation related information on more than 17,250 pages is without doubt the primary information site for all those interested in trace element and speciation analysis. It is our faithful user community that tells us that the information value provided by EVISA is highly accepted.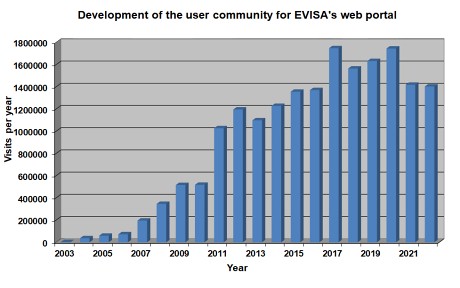 We have actually welcomed more than 18.5 Million visitors on EVISA's webportal (December 2022), about 1.4 Million during the year 2022. The users have downloaded about 10.7 Mio. pages during the year 2022.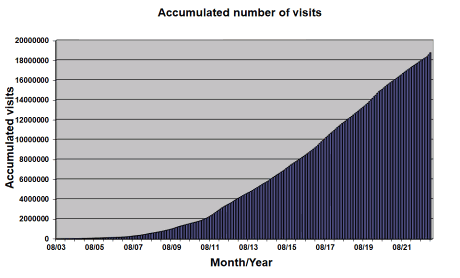 Our user community started to grow at a significant rate with the beginning of 2007, when EVISA opened its German office in Münster. In 2011 we nearly doubled the number of visits compared to the previous year. Since then our user community was still increasing, although at a lower rate. We are continuously analysing the user activity and are using the information to improve the versatility of the site.


Related EVISA information

EVISA's web portal

Third parties linking to EVISA

Scientific publications citing EVISA

Development of the content of EVISA's data centre

EVISA's web site viewed by the major search engines

Related EVISA News

September 15, 2022: EVISA's Internet Platform: 20 Years of Service

April 7, 2021: EVISA welcomed its 16 Millionth User

July 13, 2020: EVISA welcomed its 15 Millionth User

April 11, 2016: EVISA welcomed its 8 Millionth User

December 17, 2014: Ten years EVISA Speciation Newsletter

December 16, 2013: EVISA welcomed its 5 Millionth User

January 16, 2013: EVISA welcomed its 4 Millionth User

September 8, 2011: User community on EVISA's Website doubling during the last 6 months

September 28, 2009: EVISA welcomes its one millionth visitor

July 7, 2008: EVISA user community surpassing 30,000 visits per month

April 1, 2007: EVISA's User Community steadily growing
last time modified: February 13, 2023