EVISA's User Community steadily growing
(01.04.2007)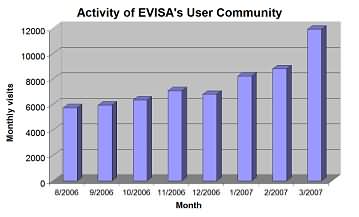 The activity of EVISA's user community (visits per month) has increased by about 94 % during the last 6 month and now has reached about 12,000 visits per month.
This development is in part the result of an ever increasing offer on speciation relevant information both with respect to quality and quantity on EVISA's web site.
EVISA's web site at www.speciation.net truly is the primary information source for all those looking for chemical speciation relevant information.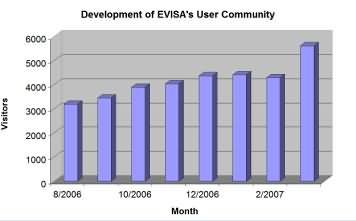 The positive development of EVISA's user community is also an effect of the growing number of users. The number of visiting sites has increased by about 50 % during the last 6 month and has surpassed 5600 visitors per month. Nearly 60 % of the visitors are coming from commercial sites.

Related EVISA News

January 18, 2004: New EVISA service: Vacancies

January 22, 2004: Now more than 150 scientists listed in EVISA's directory

December 19, 2004: Elemental speciation is going commercial

December 16, 2005: One year EVISA speciation Newsletter - Two years of EVISA web site operation - Time to look back

December 17, 2006: Two years Speciation Newsletter - Three years of EVISA web site operation - Accomplishments and Future Perspectives
last time modified: June 24, 2020