Background: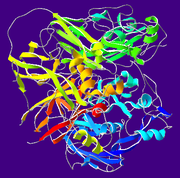 Ceruloplasmin is the major copper-containing protein in plasma. The blue alpha-2 glycoprotein with a molecular weight of 132 kDa binds 90 to 95% of blood plasma copper (Cu) and has 6 to 7 Cu atoms per molecule. The various functions of this protein, although not fully understood, include ferroxidase activity, amine oxidase activity, superoxidase activity, and involvement in Cu transport and homeostasis.
The determination of ceruloplasmin is performed when disorders of copper metabolism or storage are suspected.
The most important clinical application of the ceruloplasmin test is in the diagnosis of Wilson's disease, where typically, concentrations of ceruloplasmin are reduced and concentration of dialyzable copper are increased. Unless treated with copper chelators, the disease is always progressive and fatal. Prompt diagnosis is important since the treatment takes 3-6 months to have the desired effect. Ceruloplasmin assay should be considered in cases of central nervous system disease of obscure etiology. Neurological symptoms include problem of coordination.
Lower-than-normal ceruloplasmin levels may indicate:
Menkes' syndrome (Menkes' kinky hair syndrome) -- very rare
Wilson's copper storage disease (rare)
Overdose of Vitamin C
Copper deficciency

Greater-than-normal ceruloplasmin levels may indicate:
Pregnancy
Lymphoma
Acute and chronic infections
Rheumatoid arthritis
At present there is no standardized reference method for Cp, and the immunologic methods cross-react with apoceruloplasmin (apoCp), which can bias data and deliver higher than expected concentrations for the target protein.
The new LC-ICP-MS method:
The method uses SEC to separate Cp from other proteins and from inorganic ions, and ICP-MS to detect Cu isotopes at mass-to-charge (m/z) ratios of 63 and 65 amu and to identify Cp using the 63Cu/65Cu signals. To eliminate possible interference from highly abundant proteins, some of which may bind Cu to form protein-Cu complexes, the serum sample is depleted of albumin, IgG, IgA, transferrin, haptoglobin, and antitrypsin using immunoaffinity chromatography prior to SEC. Quantification of the protein in the depleted serum is performed using external calibration with a Cp standard. Method accuracy and precision were established with a reference serum certified for Cp.

Agilent Application Note:

Viorica Lopez-Avila, Orr Sharpe, William H. Robinson,
Determination of Ceruloplasmin in Human Serum by Immunoaffinity Chromatography and Size Exclusion Chromatography-ICP-MS
,
Application Note, Agilent Technologies, 5989-5304EN, 2006

Related studies:

T.E. Machonkin, H.H. Zhang, B. Gedman, K.O. Hodgson, E.I. Solomon,
Spectroscopic and magnetic studies of human ceruloplasmin: identification of a redox-inactive reduced Type 1 copper site
, Biochem., 37/26 (1998) 9570-9578.
DOI: 10.1021/bi980434v

Kazumi Inagaki, Naoko Mikuriya, Sayaka Morita, Hiroki Haraguchi, Yousuke Nakahara, Mamiko Hattori,Tomohiro Kinosita, Hidehiko Saito,
Speciation of protein-binding zinc and copper in human blood serum by chelating resin pre-treatment and inductively coupled plasma mass spectrometry
, Analyst (London), 125/1 (2000) 197-203.
DOI:
10.1039/a907088e

Jose Joaquin Cerón, Silvia Martínez-Subiela,
An automated spectrophotometric method for measuring canine ceruloplasmin in serum
, Vet. RFes., 35 (2004) 671-679.
DOI: 10.1051/vetres:2004046

Patrick J. Twomey, Adie Viljoen, Ivan M. House, Timothy M. Reynolds, Anthony S. Wierzbicki,
Relationship between Serum Copper, Ceruloplasmin, and Non-Ceruloplasmin-Bound Copper in Routine Clinical Practice
, Clin. Chem. (Winston-Salem, N.C.), 51/3 (2005) 1558-1559.
DOI: 10.1373/clinchem.2005.052688

Viorica Lopez-Avila, Orr Sharpe, William H. Robinson,
Determination of ceruloplasmin in human serum by SEC-ICPMS
, Anal. Bioanal. Chem., 386/1 (2006) 180-187.
DOI: 10.1007/s00216-006-0528-9

Kenji Kobayashi, Yoko Katsuya, Rizky Abdulah, Chie Fujisawa, Takeaki Nagamine, Akihiro Morikawa, Masami Murakami, Hiroko Kodama, Hiroshi Koyama,
Direct Analysis of Ceruloplasmin in Human Blood Serum by HPLC/Inductively Coupled Plasma-Mass Spectrometry for the Diagnosis of Wilson Disease
,
Biomed. Res. Trace Elem., 18/1 (2007) 91-95.

Related Information

Medline Plus Medical Encyclopedia: Ceruloplasmin

Wikipedia: Ceruloplasmin

Medscape: Diagnosis and Current Therapy of Wilson's Disease

Labtests Online: Ceruloplasmin
last time modified: June 22, 2020