EVISA has initiated, coordinated, and supported activities meant to promote speciation analysis during the year 2012, with respect to:
Giving presentations at conferences and symposia
Giving short courses

Participating in applied research
Editing speciation related publications
EVISA participated with presentations at following conferences:
ICP User meeting, Berlin, Germany, January 2012

PittCon 2011 in Orlando, FL, USA, March 2012
6th Nordic Conference on Plasma Spectrochemistry, Loen, Norway, June 2012
SCIX 2012 (FACSS 2012): The Great Scientific Exchange, Kansas City, Sep/Oct 2012

EVISA supported short courses related to speciation analysis organized during symposia and conferences, for example during:
41. Deutscher Lebensmittelchemikertag, Münster, Germany, September 2012
Together with University of Münster (U. Karst) we invited authors to submit their publications in the field of Metallomics for a special issue of the journal Analytical and Bioanalytical Chemistry, that will appear in Spring 2013.

Another activity of EVISA was once again the operation of EVISA's Data Center. EVISA's data center was improved, enhanced and updated during the year 2012 in order to keep its position as the prenier information source in the domain of trace element and speciation analysis:

We continued to inform about all aspects of trace elements and their species with
News
and
Events
and added alltogether more than 780 pages full of information during the year, about 4 pages each working day. The content of the EVISA Data center has actually surpassed more than 15,380 pages (see the graph below). Since we also tried hard to keep all records and their links alive, EVISA's News section is actually a section of hot topics in speciation analysis.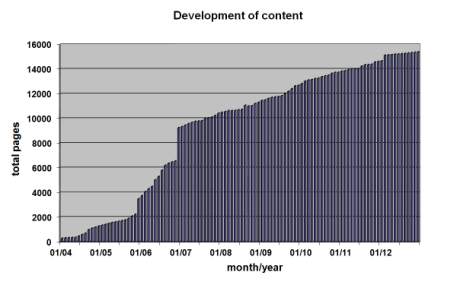 In order to provide easy access to valuable information we not only updated excisting links but also created new link pages for different topics:
These link pages are used for cross-linking between internal and external resources.
We also published new "Brief summaries" for speciation relevant topics and some techniques used in speciation analysis, meant to give easy access to information about these topics:
Our website attracted about 1.2 Mio. visitors during the year 2012, which is a significant growth of 16% although a less pronounced growth in comparison to 2011.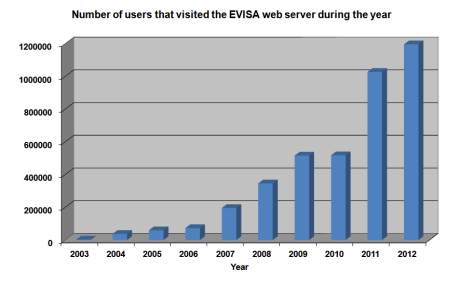 Unfortunately, part of the visibility of our site is dictated by the big search engines such as google, which are changing their ranking policy quite often in a non transparent way with respect to content quality indicators.


Related EVISA Resources

EVISA's Web Portal

User statistics of EVISA's web portal

EVISA's web site viewed by the major search engines

Development of the content of EVISA's data centre

Third parties linking to EVISA

Related EVISA News

September 8, 2011: User community on EVISA's Website doubling during the last 6 months

January 12, 2011: EVISA's activities during the year 2010


December 11, 2009: EVISA's activities during the year 2009

December 15, 2008: A short review of EVISA's activities during the year 2008


December 16, 2007: Three years EVISA Newsletter - Four years EVISA website - Time to take stock


December 17, 2006: Two years Speciation Newsletter - Three years of EVISA web site operation - Accomplishments and Future Perspectives

December 16, 2005: One year EVISA speciation Newsletter - Two years of EVISA web site operation - Time to look back
last time modified: January 16, 2013