The year started with a
Special Issue of the Journal of Analytical Atomic Spectrometry (JAAS)
dedicated to Speciation Analysis that was edited by Joannar Szpunar from the EVISA member University of Pau and EVISA director Michael Sperling.
During the year 2011 EVISA acted as a co-organizer for two major events in the domain of speciation analysis:

TraceSpec 2011: 13th Workshop on Progress in Trace Metal Speciation for Environmental Analytical Chemistry, Palais Beaumont, Pau, France, 18 May 2011 - 20 May, 2011

METALLOMICS 2011: 3rd International Symposium on Metallomics, Münster, Germany, 15 Jun 2011 - 18 Jun, 2011
TraceSpec 2011 in Pau attracted mainly scientists working in the field of environmetallomics.
METALLOMICS 2011 in Münster attracted more than 320 scientists from 39 countries working in life sciences. Both events were very successful by highlighting the state-of-the-art of analytical sciences related to speciation analysis in the domain of trace element species in the environment and life sciences. A
special themed issue of Metallomics
devoted to the conference has been published.
EVISA also once again supported a workshop dedicated to speciation analysis with hands on training:

Einführung in die Elementspeziesanalytik, Helmholtzzentrum für Umweltforschung - UFZ, Leipzig, 25 May 2011 - 27 May, 2011
Another activity of EVISA was once again the operation of EVISA's Data Center. EVISA's data center was improved, enhanced and updated during the year 2011 in order to keep its position as the primary information source in the domain of trace element and speciation analysis:
We continued to inform you about all aspects of trace elements and their species with News and Events and added alltogether more than 830 pages full of information during the year, about 4 pages each working day. The content of the EVISA Data center has actually surpassed more than 14,500 pages (see the graph below). Since we also tried hard to keep all records and their links alive, EVISA's News section is actually a section of hot topics in speciation analysis.

In order to provide easy access to valuable information we not only updated excisting links but also created new link pages for different topics:
EVISA Link pages to detection techniques


All about Mass Spectrometry


All about Atomic Spectrometry


All about Molecular Spectroscopy


All about Radioanalytical Techniques

EVISA Link pages related to separation techniques


All about Chromatography


All about Electrophoresis
EVISA Link pages related to Data Evaluation and Reporting


All about QA/QC
EVISA Link pages related to Application Fields:


All about food science and technology

These link pages were cross-linked with the related journals, brief summaries and news.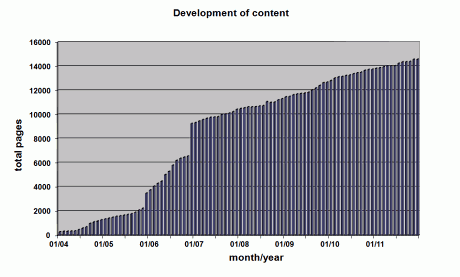 We not only developed the site with respect to content but also enhanced its usability by updating our server technology:

In August we changed our server that was running since 2003 to a Quad machine with 16 GB RAM

We also updated our software infrastructure to the newest versions

Our website attracted about 1 Mio. visitors during the year, which is a remarkable growth of close to 100%. We do believe that this fact is in part related to the changement of ranking policy of major search engines that changed their policy with respect to content quality indicators.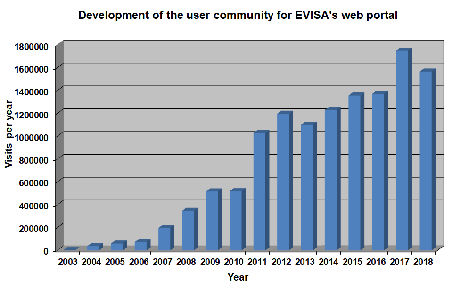 Alltogether now more than 2.7 Mio users have visited the EVISA website and we expect to welcome the 3rd Mio. visitor in March of this year. Anyhow, as we already stated earlier, what really counts is the quality of information provided.

Related EVISA Resources

EVISA's Web Portal

User statistics of EVISA's web portal

EVISA's web site viewed by the major search engines

Development of the content of EVISA's data centre

Third parties linking to EVISA

Related EVISA News

September 8, 2011: User community on EVISA's Website doubling during the last 6 months

January 12, 2011: EVISA's activities during the year 2010


December 11, 2009: EVISA's activities during the year 2009

December 15, 2008: A short review of EVISA's activities during the year 2008


December 16, 2007: Three years EVISA Newsletter - Four years EVISA website - Time to take stock


December 17, 2006: Two years Speciation Newsletter - Three years of EVISA web site operation - Accomplishments and Future Perspectives

December 16, 2005: One year EVISA speciation Newsletter - Two years of EVISA web site operation - Time to look back
last time modified: January 18, 2012